This weekend, I finally got my grubby little paws on Natalie Krishna Das' new 'zine project, Light & Death. I knew that it was coming… Natalie had made me well aware of that, long beforehand… and I fully expected that it would turn out really, really well. But even with my lofty expectations front and center in my mindset, I was still pleasantly surprised by the end result, anyway It is instantly one of the best (and the coolest) 'zines on the scene, today. Keep on reading to find out why.
The 'zine is, technically speaking, a "1/4 Format Micro-'Zine". But it completely defies expectations by being professionally printed (in full color throughout) on heavyweight paper stock. It is an unusually quality presentation, especially impressive considering that this is Natalie's first outing as a 'zinemaker. That's Kris Yates on the cover, skating one of the the abandoned DC-7s at the Gila River Memorial Airport (formerly Williams Auxiliary Army Airfield Number 5), shot by Andrew Ruiz. The date stamp is a really neat (and creative) touch.
The opening spread sets the tone for the rest of the issue. Still in full color, there are photos, ads, drawings, and words squeezed into every conceivable corner. It's pretty damned entertaining, with all kinds of little surprises and prizes scattered throughout.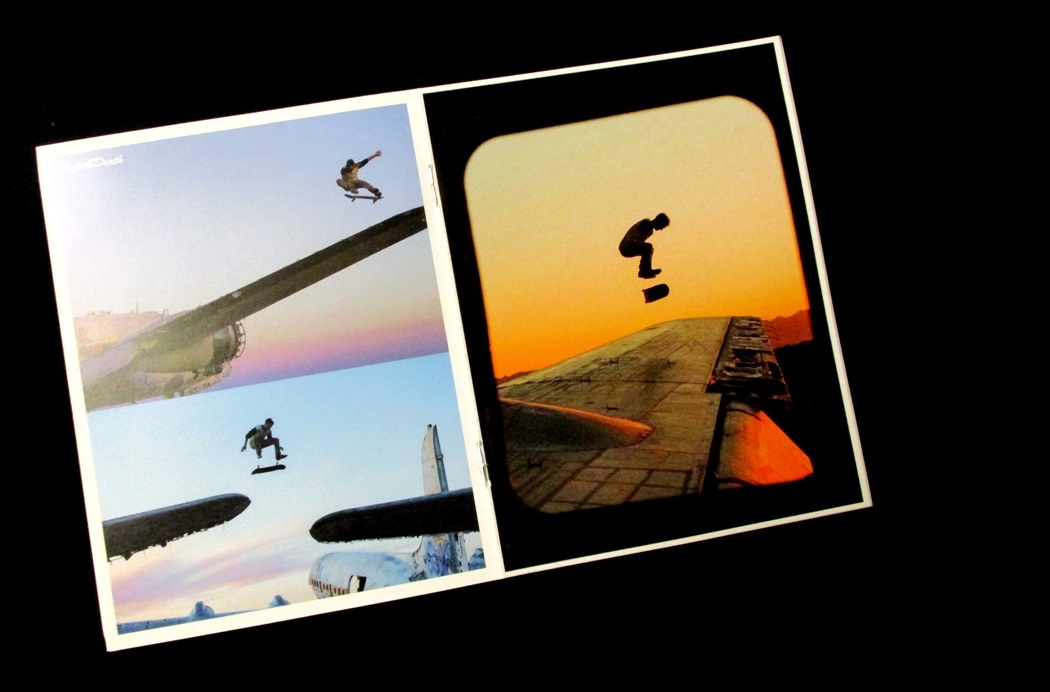 The Kris Yates/Andrew Ruiz photos also occupy the centerspread, right where they should be. That photo on the right is really sumthin', right there.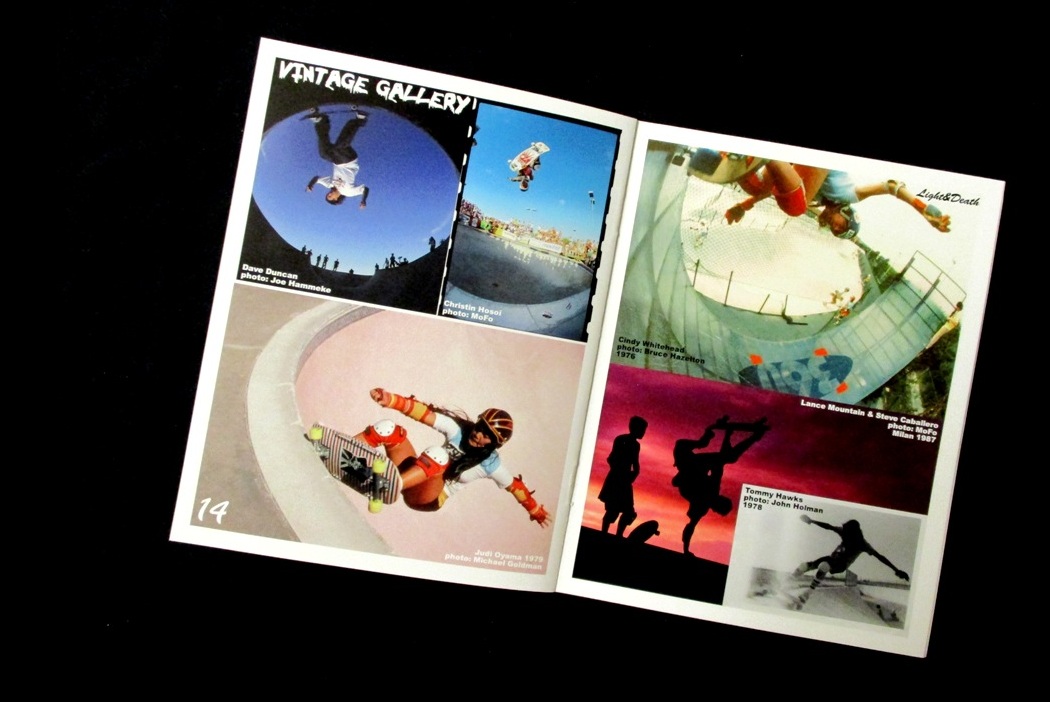 Light & Death has a lot of variety, including street, pools, DIYs, women, and this killer "vintage" spread featuring photos of Dave Duncan, Judi Oyama, Cindy Whitehead, Tommy Hawks, Christian Hosoi, Steve Caballero, and Lance Mountain shot by Joe Hammeke, Michael Goldman, Bruce Hazelton, John Holman, and MoFo, respectively.
Light & Death is totally free; all you'll ever need to pay for is postage and handling, which is more than fair. If you'd like a copy of your own, hurry up and e-mail Natalie at sk8wakenat@yahoo.com (using "zine" as the subject) before they're all gone and spoken for. Thanks, Natalie. Can't wait to see issue two.