Hey, Carson! Bud here from Everything Skateboarding. How you doin' today? Are you ready to answer a few questions…?
Howdy there Bud! I'm doing great! Thanks for having me apart of Everything Skateboarding. Hit me with the questions, dude!
First up: what's your position at the company?
I'm the owner and artist for Taffy Boards, Apparel and Art.
How'd you get into skating? How long have you been doing it? What kind of stuff do you like to rip?
I first got interested in skateboarding when I was really young. I had just moved to Arizona and had noticed a lot of kids skateboarding. Plus, there were a lot more skateparks around compared to where I had lived previously in Tennessee. It looked like loads of fun and since then, I have been thrashin' and cruisin' off on and on for fun! I mainly like to skate the streets as well as skateparks. I'm always on the look out for a tasty manny pad, ledge, or stair set!
How long has the company been around? What year was it started?
I started the company in July of 2017.
Here's the most important question, right here: Why did you decide to start a small company? What was missing in the marketplace that made you ultimately say to yourselves, "Damn, man! We need to get up, get our asses going, and do this ourselves!"…?
I decided to start the company because I wanted to combine my love for art and skateboarding together. I had been doing a little bit of freelance art for local brands and skate companies for the past couple of years. But, I realized that I didn't want to try and get my foot in the door of companies so I could design their decks or shirts for them. I wanted to be able to design my own decks, clothing, and stickers with my own ideas in a lowbrow art style. I aim to contribute a funny and wacky side to skateboarding with the graphics I make for Taffy!
Who's on the team (if you have one), and why did you pick those guys to represent your product/brand?
I don't have anyone on the team as of right now. However, I'm in the process of getting some local shredders to join the Taffy Skate Crew soon! I'm a pretty busy duder with school and work, so I can't always put as much time into the company as I want. But I'm working on the company whenever I can!
What are the goals of The Company? Rock star status? International distribution? World domination? Corporate alliances, aquisitions, and mergers? Hookers and Blow?
The goal of the company is to keep expanding and making an impact in the local skate scene and beyond it as well. I want to collaborate with other artists and skaters as well as spread Taffy Boards, Apparel and Art in a lot skate shops across the U.S. Getting a bunch of young riders to be apart of the team is also a big goal of mine!
Do you, or would you, sell direct-to-consumer? If so, do you have an MSRP pricing structure to protect the retailers?
That is all I do right now is sell direct to consumer. I usually sell off of my website (Taffylife.com) and at art shows and festivals.
Are your boards in shops? If so, which ones?
I have boards and shirts in the Sk8 Haus which is in Surprise, AZ. I am trying to get into some more shops though.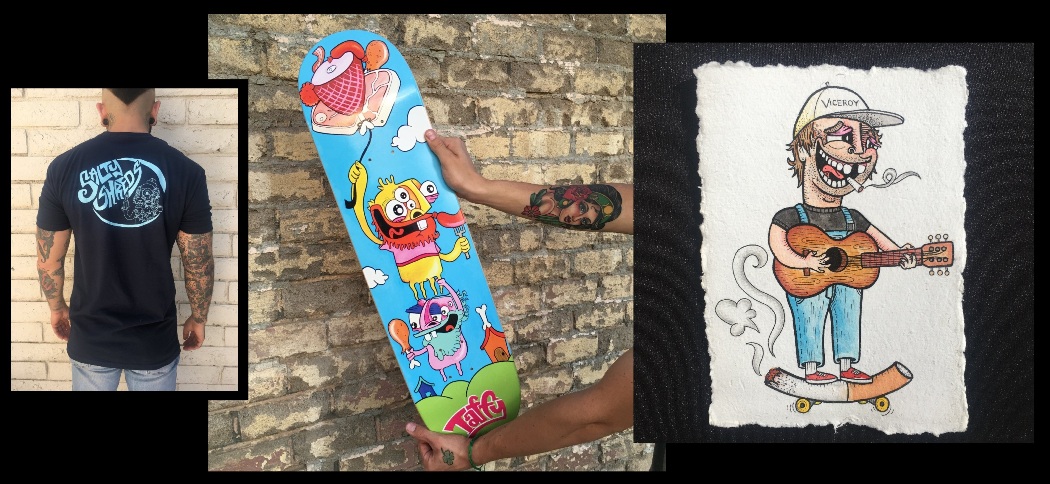 Have any distributors picked you up yet?
No, not yet! I haven't focused on it thus far but I am definitely interested and have made it a goal of mine for the near future!
Have you advertised in any magazines lately? If so, how and why did you pick those mags…?
I had an artist profile spread in Concrete Wave Magazine. It includes a bunch of my illustrations as well as board designs I have done for Taffy. It's a magazine I'd get when I would visit skate/surf shops in California growing up. I was beyond stoked and honored when I got the opportunity from you to do a showcase of work as well as a short bio of myself and the company!
How crappy are my questions? Is there anything that I forgot to ask, that you'd like to talk about? Famous last words, perhaps…?
Pshhh, these aren't crappy at all! These questions are awesome Bud. Thanks a lot for having me apart of this month's magazine! I'm working on new shirt designs, art, and boards, so stay tooned!
Ya'll can follow what I'm up to @taffy.life and @carsonsmithart on Instagram!