The Newsletter is here to keep everyone in the Phoenix skate scene up-to-date and in-the-know about upcoming events and happenings. Below, you'll find the June community calendar with detailed information about each event. If you have an event you'd like to add (or corrections for any of the events below), please e-mail the information to budstratford@aol.com. Thanks for supporting your local skate scene, and your local skate shops…!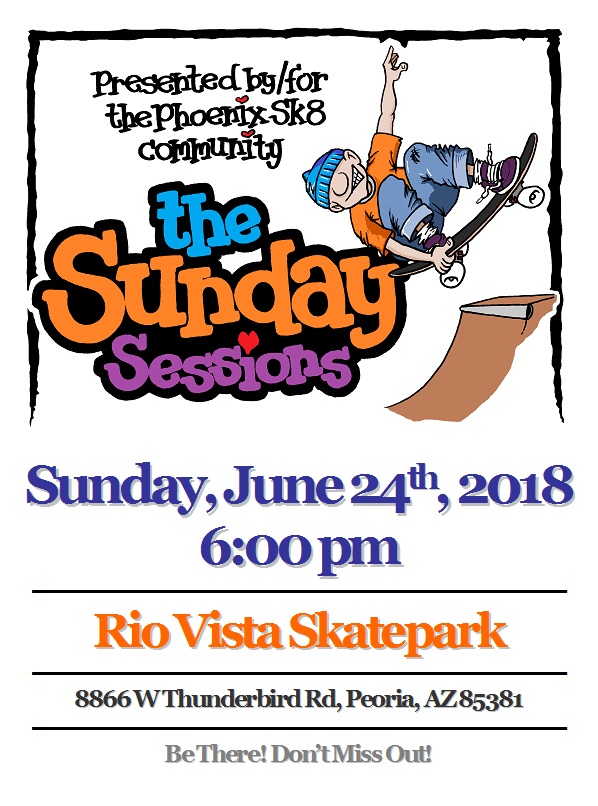 Last Sunday of every month:
The Sunday Sessions
Presented by the skate shops, skate companies/brands, and the skate media of the greater Phoenix Metro area
Held at various local skateparks around the valley on the last Sunday of every month
Contact: Bud Stratford (or any local skate shop or skateboard company) on Facebook
Cost: Free for anyone to come, skate, and have fun.
Mark your calendars! The second of The Sunday Sessions will be happening on Sunday, June 24th, 2018 at Rio Vista (Peoria) Skatepark at 8866 W Thunderbird Rd, Peoria, AZ 85381.
The Sunday Sessions are intended to be free-to-attend, open skate sessions for skaters of all ages and abilities, held at the various Phoenix local skateparks on the last Sunday of every month (or Saturday evening, in the heat of the summer). The idea is to rotate them through all the local parks throughout the year, starting on the far west side, and working our way clockwise through the valley. Designed to get skaters together and to build the strength of the local skateboarding community, these events will be hosted and funded by the local Phoenix skate brands and shops, and will feature team riders, "Learn To Skate" sessions, spontaneous mini-contests here and there (for those that are competitively inclined), dork trick sessions, bar-b-ques, and prizes and giveaways from the participating brands and shops.
The goal here is to keep the community tight, and to keep skaters stoked and hyped on skating via regularly-scheduled get-togethers.
Tentative 2018 Locations Calendar:
The Sunday Sessions (Goodyear) Sunday, May 27th, 8 am *Done!
The Sunday Sessions (Rio Vista) Sunday, June 24th, 6 pm *Next up!
The Sunday Sessions (Surprise Farms) Sunday, July 29th (or Saturday the 28th)
The Sunday Sessions (Union Hills or Paradise Valley) Sunday, August 25th (or Saturday the 24th)
The Sunday Sessions (Eldorado Park/The Wedge) Sunday, Sept 30th (or Saturday the 29th)
The Sunday Sessions, Special Road Trip Weekend! Lake Havasu City, AZ, weekend of Saturday and Sunday, October 20th and 21st
The Sunday Sessions (Freestone) Sunday, October 28th
The Sunday Sessions (Pecos) Sunday, November 25th
The Sunday Sessions (Cesar Chavez) Sunday, December 30th
Every Sunday morning at 9am:
Sunday Morning Mass
At various local skateparks, 9am every Sunday
(Typically Foothills/Union Hills Skatepark, 5752 W Union Hills Drive, Glendale, AZ 85308)
Contact: Prevent This Tragedy or Adam Richards on Facebook
Skaters of all ages congregate at local area skateparks every Sunday morning in and around
Phoenix. Free for anyone to come, skate, and have fun.
Every Wednesday, 3 pm – 6pm, and 6 pm – 9pm:
All-Girls Skate Session
91 West Skatepark
8550 N 91st Ave, Unit 54,
Peoria, AZ 85345
Phone: (623) 236-3033
Open to all girl skaters, $5 per participant, this is a chance for girls of all ages to skate together. Air conditioned comfort in the summer is an added bonus.
Every Thursday, 7 pm to 9 pm, $11.00:
Old-School Skate Night
Kids That Rip (aka KTR)
1927 N Gilbert Rd, Mesa, AZ 85203
Phone: (480) 844-9600
Open to all skaters, $11 per participant, 7-9 pm every Thursday.
Every Friday Night, 7 am to midnight, Free:
Friday Night Sessions at Gobber's
Contact: Chris Gobber via Facebook
Free weekly skate session at Chris Gobber's private backyard skatepark. Happens most Fridays. You must do this at least once, or you just haven't lived. Fun for all ages and abilities. Friend him on Facebook to get updates and an invite.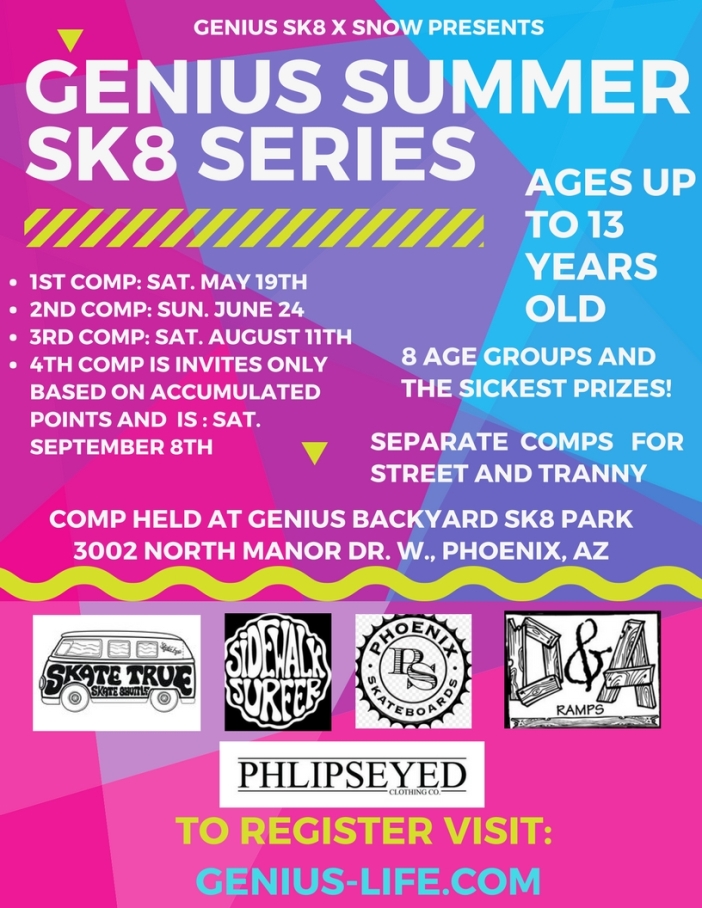 Genius Sk8 x Snow Presents:
Genius Summer Sk8 Series
Saturday, May 19th, 2018; Sunday, June 24th, 2018; Saturday, August 11th, 2018; and Saturday, September 8th, 2018
Held at the Genius Backyard Sk8 Park, 3002 N. Manor Drive West, Phoenix, AZ 
Times TBA, Free
To register, or for more details, visit www.genius-life.com
This is a four-date series of amateur events held at a private, backyard skatepark in Phoenix. Check the website for details…!
Cowtown Skateboards Presents:
Go Skateboarding Day Mini Ramp Jam
Thursday, June 21st, 2018.
The Pressroom, 441 W. Madison St, Phoenix, AZ 
7pm, Free
Being a Skateboarder in Arizona you probably have a love-hate relationship with Go Skateboarding Day. On one hand it's a day that's focused on what we all love to do, but on the other hand, it is in the middle of the brutal Arizona summer often hitting over 110 degrees. So this year with some help from Emerica and the rest of the skateboard industry we have an awesome compromise! An indoor Mini-Ramp Jam in the A/C with prizes for best trick and whatever else we decide. On top of that will be premiering Conor Holliday's latest video "plAZa", live music from THRA and LOSERFUR and end it all with a product toss to everyone in attendance. So join us on Go Skateboarding Day June 21st at the Pressroom in Phoenix starting at 7:00 pm. Free to attend and all ages are welcome!
Everything Skateboarding Magazine Presents:
Phoenix CitySkate 2018 Indian Bend Wash (June)
Sunday, June 17th, 2018
Meet at Chase Bank, 8999 E Shea Blvd, Scottsdale, AZ 85260
8 am to 11 am (or so), Free
The Indian Bend Wash Greenbelt is a long, smooth, paved greenway (that doubles as a flood control diversion ditch) that runs from Shea Road and 92nd Street, all the way to Tempe Town Lake, through McCormick Ranch, Chaparral Park, Camelback Park, Indian School Park, Continental Golf Course, and Eldorado Park, before continuing through Vista Del Camino Park and Rio Salado Park to Tempe Town Lake. It rolls steadily (but imperceptibly) downhill the whole way, and winds through some of the most beautiful scenicscapes in all of the Phoenix Metro.
This particular cruise is about nine miles in length, and ends at Eldorado Park, with multiple options for shorter lengths; there are bus stops at Chaparral park and Camelback Park for the less-ambitious and -adventurous of us. We get an early start, of course, to avoid the mid-day Phoenix heat.
For those that make the whole nine, the typically tired and hungry crew heads to Denny's at 7605 E. McDowell Rd. to tank up on Grand Slams before catching the bus at the Hayden and McDowell bus stop to head back to the cars. 
All attendees should bring $2 in exact change for bus fare, plus money for the after-cruise breakfast. This cruise is open to skaters of all ages and abilities, and all are encouraged to attend. The cruise is extremely relaxing, and far less taxing than you would think, given the ambitious mileage involved.
There will be demo boards on hand, provided by our event sponsors: Carver Skateboards, Seismic Skate Systems, and Loaded Longboards.
All attendees will get "Thanks For Attending" prize packs, filled with goodies provided by our our sponsors: Concrete Wave Magazine, Carver Skateboards, Seismic Skate Systems, Loaded Longboards, Orangatang Wheels, Bamboo Skateboards, Abec 11, Concrete Disciples, along with local skate shops Scottsdale Sidewalk Surfer, Freedom Boardshop, State Rideshop, and Cowtown Skateboards.
Lifestyle Clothing Presents:
Tempe Grill and Chill
Sunday, July 15th, 2018
Tempe Skatepark at the Tempe Sports Complex, 8401 S Hardy Dr , Tempe, AZ 85284
5 pm to "lights out", Free to chill, $3 to enter
The Grill and Chill events are always massive fun. Easygoing, relaxing, lots of good friends, great skating, and excellent times, they are not the types of events that you want to miss. Sponsored by Lifestyle Clothing, Skate True, Flo Skateboards, Spinelli's Pizza, and Phlipseyed Clothing Company.
On Deck:
Scottsdale Sidewalk Surfer Anniversary Bash
Tentatively scheduled for Saturday, October 13th, 2018
Scottsdale Sidewalk Surfer, 2602 N. Scottsdale Rd, Scottsdale, AZ 85257
10 am to 5 pm (or so), Free
Scottsdale Sidewalk Surfer throws an anniversary bash every October to celebrate their customers and the skateboarding community. Generally an all-day event that includes a swap meet, vendors, and bands, this is a can't-miss local event. Stay tuned for details as October approaches.
This is the definitive list of every skatepark in the Phoenix Metro. It's in geographic order, starting at the far west suburbs and working clockwise around the city.
Buckeye Skatepark
299 N 9th St, Buckeye, AZ 85326
8 am to 9 pm every day
El Mirage Skatepark/Gateway Park
10100 N El Mirage Rd, El Mirage, AZ 85335
6 am to 10 pm every day
Surprise Skatepark/Surprise Farms Skate Park
15798-15826 N 175th Ave, Surprise, AZ 85388
Goodyear Skate Park/Litchfield
3151 N Litchfield Rd, Goodyear, AZ 85395
7 am to 10 pm every day
Dust Devil Park
10645 W Camelback Rd, Glendale, AZ 85307
5:30 am to 10 pm every day
X-Court BMX Park
6101 N 83rd Ave, Glendale, AZ 85303
9 am to 10 pm every day
91 West Skatepark
8550 N 91st Ave, 54, Peoria, AZ 85345
(623) 236-3033
91westskateparkpeoriaaz.com
Desert West Skateboard Plaza
6602 W Encanto Blvd, Phoenix, AZ 85035
5 am to 10 pm every day
Peoria Skatepark/Rio Vista Park
8866 W Thunderbird Rd, Peoria, AZ 85381
8 am to 10 pm every day
Foothills Skatepark/Union Hills
5752 W Union Hills Dr, Glendale, AZ 85308
9 am to 10 pm every day
Anthem Community Park
41703 N Gavilan Peak Pkwy, Anthem, AZ 85086
6 am to 10 pm every day
The Refuge Youth Center
401 W Deer Valley Rd, Phoenix, AZ 85027
(480) 226-2019
therefugeyouth.com
Paradise Valley Skate Park
17642 N 40th St, Phoenix, AZ 85032
8 am to 9 pm every day
McDowell Mountain Ranch Skatepark
15525 N Thompson Peak Pkwy, Scottsdale, AZ 85260
Fountain Hills Skatepark
10441 N Saguaro Blvd, Fountain Hills, AZ 85268
Open 24 hours
Eldorado Park/The Wedge
2311 N Miller Rd, Scottsdale, AZ 85257
Reed Skate Park
1631 E Broadway Rd, Mesa, AZ 85204
8 am to 10 pm every day
Fountain Plaza (New!)
417 E Southern Ave, Mesa, AZ 85204
Open daily 7 am to 10 pm
Kids That Rip – Mesa, AZ
1927 N Gilbert Rd, Mesa, AZ 85203
(480) 844-9600
kidsthatrip.com
Apache Junction Skatepark
1097-, 1135 W Southern Ave, Apache Junction, AZ 85120
8 am to 10 pm every day
AZ Grind Skatepark
8743 E Pecos Rd #136, Mesa, AZ 85212
(480) 888-0499
azgrindskatepark.com
Queen Creek Skate Park/Founder's Park
22360-, 22426 S Ellsworth Rd, Queen Creek, AZ 85142
8 am to 10 pm every day
Freestone Skatepark
1045 E Juniper Ave, Gilbert, AZ 85234
5:30 am to 9:05 pm every day
Chandler Bike Park at Espee Park
450 E Knox Rd, Chandler, AZ 85225
The Bridge
824 W Germann Rd, Chandler, AZ 85286
(480) 326-2247
bridgeccc.com
Snedigar Recreation Center/Chandler Skatepark
4500 S Basha Rd, Chandler, AZ 85248
8 am to 10:30 pm every day
Kids That Rip Chandler/KTR Family Action Sports Center – Chandler, AZ
1050 E Pecos Rd, Chandler, AZ 85225
(480) 718-5872
www.ktr-centers.com
Copper Sky Skate Plaza
44345 M.L.K. Jr. Blvd, Maricopa, AZ 85138
Tempe Sports Complex/Tempe Skatepark
8401 S Hardy Dr, Tempe, AZ 85284
Open 24 hours
Esquer Park
2407 E McArthur Dr, Tempe, AZ 85281
6 am to 9 pm every day
Hudson Park
1430 S Cedar St, Tempe, AZ 85281
6 am to 10 pm every day
Mitchell Park Skatepark (New!)
S Mitchell Dr & 9th St, Tempe, AZ 85281
Pecos Skate Park
17010 S 48th St, Phoenix, AZ 85048
7 am to 10:45 every day
Hermoso Park
2030 E Southern Ave, Phoenix, AZ 85040
Open 24 hours
Cesar Chavez Skatepark/Cesar Chavez Park
7858 S 35th Ave, Laveen Village, AZ 85339
5:30 am to 11 pm every day