Skateboarding and traveling go hand in hand. Skateboarding is all about the new, the now, the unique challenges, and the struggle to succeed in the face of diversity and adversity. As skaters, we are always seeking out the next obstacle to overcome, the next barrier to clear, and the next trick to stick. But there invariably comes a time when you simply run out of things to do in your own town, city, or state, and your surroundings start to become a little bit stifling and inhibiting. You scene gets stale, old, and predictable… faces become a bit too familiar… and things start to get a little bit boring, mundane, and tedious. When that sentiment starts to creep in, that's when it's time to get up, get out, fill up the gas tank, hit the road, and breathe in the refreshing air of exploration and adventure.
Back in January of last year, Michael (Brooke, my boss at the time) came to me, and asked me what I had in mind, project-wise, for the upcoming year? Well, I had just gotten a pretty big promotion at the magazine… so what I mostly had in mind was a long stretch of micro-managing the staff, art-directing the upcoming issues, doing a little bit of editing, and basically taking it easy, sticking to the office life for the foreseeable future. Michael, unfortunately, had other ideas for my fate. His gently forceful counter-suggestion was that maybe it would be a really swell idea for me to hit the road again for the summer.
Now, this didn't go over too well with me at first. I'm 45 years old, dude. My touring heydays are far behind me, good sir. My knees are nearly wrecked, and I live in a constant state of uncomfortable pain (at the very best). The last thing that my tired old ass wanted to do, was to go torture myself all summer long, and make a bunch of (already bad) physical ailments that much worse. No, sir, the office life sounds so much more relaxing and sedate. I think I'd much prefer to stick with that for a minute or two, thank you very much.
One of my all-time favorite people, from one of my all-time most memorable summer tours: my Summer Tour 2008 that I documented for Concrete Wave Magazine. Crazy Gary, blunt to fakie at the TOC Skateshop BBQ get-together at the Marshall, Illinois skatepark, Summer 2008.
A couple paragraphs back, I used the phrase "gently forceful counter-suggestion". That was a bit of a misnomer, as I found out quite quickly. That really should have been much more accurately described as a "diplomatically delivered standing order", because that's what it ultimately became. There was no "suggestion" about it. Mike wanted my ass back out on the road, and that was pretty much the end of the debate and the dialogue on the topic.
Having lost this first round of our friendly pissing contest, I went back to my corner to get a little bit crafty. That's when inspiration struck: instead of planning a skateboard tour for myself, why don't I hook up my beloved micro-camper to my trusty Econobubble for the summer, and plan a camper tour that maybe involved a little bit of skateboarding here and there…? Ahhh! Now, here was a totally slacker notion that I could get genuinely excited about. The "slacker" bit was especially intriguing, because it directly appealed to the old, fat, lazy bastard that lives (and lives quite well) inside of me. Yet, there would be the slightest veneer of "work-related" tinting the whole excursion that would (hopefully) appease Mikey, and keep his "gently forceful counter-suggestions" happy (and at bay) for a moment or two. It was also a really crafty way, of course, of getting the Concrete Wave Expense Account to pay for what would end up being some pretty kick-ass mini-vacations.
The icing on my lazy cake was the serendipitous discovery of two websites that I stumbled upon one day, while I was busy nerding out over some research. They were, in order, Roadside America (www.roadsideamerica.com), and Atlas Obscura (www.atlasobscura.com). These sites are all about roadside oddities… things like "The World's Largest Teflon Frying Pan", for example… and vintage Americana. You know, your basic gee-whiz, how-'bout-that, touristy-trap sort of stuff. The stuff that is really easy on the eyes… and even better, easy on the knees… because it has nothing to do whatsoever with skateboarding, and everything to do with wandering around all over hell and creation, and gawking around like a bleedin' idiot. If there's anything that I'm good at in life these days, then that's probably it. With a bunch of free campsite suggestions in hand from my other brand-new buddies over at www.freecampsites.net, I was ready and rarin' to get my summertime started…!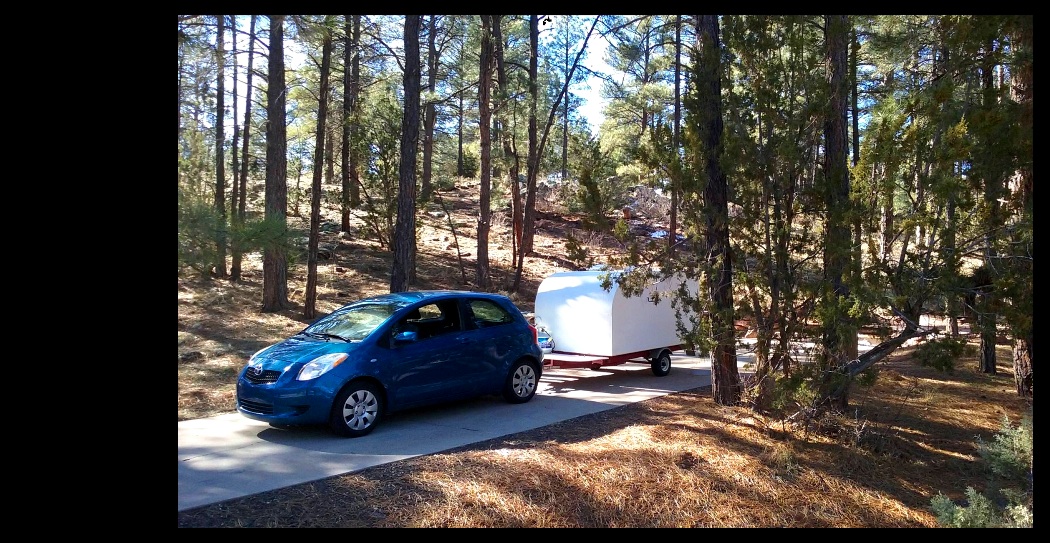 The Micro-Camper at Fool's Hollow State Park, near Show Low, Arizona, Spring 2017.
Strangely, my desire to avoid skateboarding at all costs, and to do almost anything in the world but skate, led to one of the busiest skate-summers that I've lived in recent memory. Old working relationships were rekindled… namely with Jeff Greenwood at Concrete Disciples, who I lean on to help me find the skateparks along my travel path… and who I, in turn, help out by sending updates regarding those parks, along with the new parks that I stumble into in my wayward wanderings. Because I live in the desert southwest these days- a part of the country where flood control and water diversion are key and critical concerns- I'm also routinely astounded by the impressive concrete infrastructure that I get to unearth, skate, and experience along the way. Just last weekend, I skated seven skateparks… and even better, three surprise ditches… and let me tell you, it was so much fun that it f'n hurt. For an old, fat bastard that's trying to not skate very much these days, I'm suddenly finding myself skating more than I ever have in my entire life. It is, quite literally, Living The Dream. The skater's version of "The Dream", at least.
Memorial Park, as documented for our media partner, Jeff Greenwood over at Concrete Disciples. You'll read more about this trip later in the issue in my "And The Road Goes On" article. Nogales, Arizona, Sunday, March 18th, 2018.
April was slated early on to be designated "The Travel Issue", mostly because I was sitting on so many unpublished stories from my misadventures last year. Out of the thirteen articles that I wrote, I only published four of them [on the Concrete Wave website]. The rest of them sat around collecting dust, waiting on some small, yet significant edits that would polish them off, and make them truly read-worthy. But because I was spending so much time traveling around, skating stuff, doing my tourist-gawking, and wrecking my body, the articles ended up staying static in these various states of almost-completion throughout the entire summer, much of the fall, and well into the winter.
I decided, early on, that this spring would be the ideal time to get those finished, and finally published as they were meant to be presented: as a complete series of stories, chronologically in order. The 2017 stories are all titled "The Summer Camper Tour 2017, Report Number (Whatever)". I bunched them all together on the site, to keep the navigation as easy and simple as possible.
For the 2018 series, I've decided to change the titles to "And The Road Goes On"; you'll see that with this month's Sierra Vista piece, and next month with the upcoming Brawley article. That change in working titles reflects a brand-new perspective on my summertime travels: rather than staying on the road for a single year (as Michael and I had originally intended), I've decided that these adventures are so stupidly fun that I really should consider making these travel-articles an ongoing project that I can continue to work on, perennially, well into my retirement years. As long as my body holds up reasonably well, and there's a promise of some neat new adventure out there, just over the horizon somewhere… well, why stop? Why give up on such a fun way of living out the remaining balance of my life…?
Believe it or not, I discovered this ditch completely at random while heading back to the highway from an impromptu abandoned-airfield exploration. Being a certifiable aviation nerd really pays off sometimes; you'll read a lot more about that in my "And The Road Goes On" article, too. Palominas, Arizona. Sunday, March 18th, 2018.
In addition to my completed series of summertime stories, we also have Daniel Fedkenheuer's second installment of his "Letters From New York" series; a Las Vegas road-trip article form the legendary Jim Goodrich; and a 13,000 word literary tour-de-force from Galen DeKemper. Galen's work could be accurately described as skateboarding's modern-day incarnation of Jack Kerouac, Hunter S. Thompson, Charles Bukowski… or maybe, most accurately, an autobiographical version of JD Salinger. Galen is, quite fairly, a little bit of all of the above, and yet not quite any of them at the same time. You can squint and see the influences here and there in his work, yet he still has a unique style all his own.
Some people… the "Nagging Naysayer" contingent of pansies and pussies, as always… will surely question the wisdom of presenting such a lengthy leg-stretcher of an article online, in a day and age when people generally eschew reading even the tiniest of thought tidbits. To that criticism, I say, "Fuck It". Everything Skateboarding exists to expand boundaries, push buttons, and try new stuff. That is, after all, what skateboarding is all about.
Enjoy the issue, see you next month.

Bud Stratford, Executive Director, Everything Skateboarding