2018 is definitely messing us about now. As I write this, I sit in a tiny cottage in south east England with a log fire burning and snow on the ground outside. Snow. In England. At the end of February. Two weeks ago I was skating around in bright sun wearing just jeans and a T-shirt! My old, broken joints can't really handle all these sudden changes in temperature, but we've got to keep plodding on. Freestyle demands it.
Normally I deal with events first but something really demands to be at the top of this list. Madrid, the iconic 80s company who once sponsored Primo Desiderio, Greg Smith, Bob Smeltzer and Mac, have finally dipped their toes back into the game with a series of apparently Decomposed-exclusive freestyle boards. They're all identical shapes – classic non-concave single kicks with modern 28" by 7.5" shapes – but with modern-looking graphics. Unfortunately, a couple of them appear to have not been designed very well for the 7.5" width, with key elements of the graphics disappearing over the edge. However, with the thicker 80s style veneers, these should be worth picking up. Grab one from Decomposed today; hopefully, if there's enough visible demand, they'll commit a bit more fully to our little niche.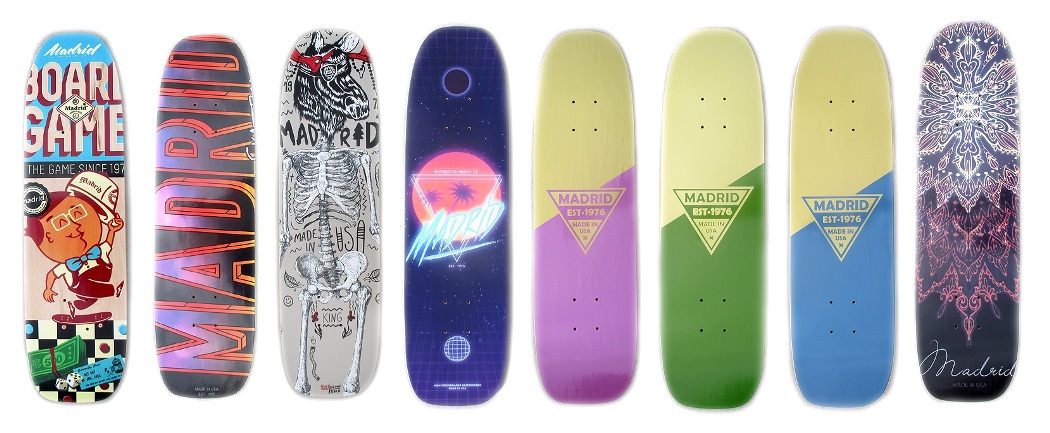 Before I leave Madrid behind, I have a little rumour to proliferate… I spent a bit of time at the Madrid stand while I was at ISPO, and it seems like Decomposed aren't the only freestyle company they're working with. Whether or not something will come from the partnership is yet to be seen, but it's interesting to see an iconic 80s brand start to get dragged back into freestyle.

Last up on the new product front is a totally new board company. Patrick Bamford has a Canadian-themed 7.5" x 28.25" single kick available on his new website, Bamford Freestyle Skateboards. Strange; this time five years ago it seemed like you couldn't find a single kick deck anywhere. Now everyone and their Grandma are making them!
One thing that is really nice to see is that Patrick has deviated away from the stereotypical '80s throwback shape of overly square tail and horribly short nose which has defined single kicks for so long, so that deck should skate pretty well.

Team changes now and Jacob Whitt, the ever-prolific video-monger from Texas, has landed on Sk8kings' wheel team. It looks like wheel teams are all the rage these days. I always thought wheels were an odd sponsorship proposition, as they lose the graphics within an hour or so of freestyle. It's not even like Jacob can wear a Sk8kings shirt to promote them; he seems to be topless for about 97.3% of his waking hours. The embedded video below is probably the only time he's worn a shirt all month.

Momentum is really building for the next World Round Up. If you're in the unlucky position of having given your email to Monty Little at some point in the last decade, you've no doubt been getting countless photoshopped images of various skaters in your inbox for the last week or two.
If you're interested in going, head over to their website to register and book your flights to Vancouver. The event runs from the 18th to the 21st of May, 2018. I highly recommend that if you're flying any real distance to the event you get there a few days in advance; the schedule is brutal and you really want to be at least half-way recovered from jet lag before you get thrown into the prelims.
Anyway, registration is already underway; if you're planning on entering the pro division, you can expect to be up against Diego Pires, Denham Hill, Mike Osterman, Matt Smithies, Daniel Trujillo, and, most excitingly, Jesse Whalen. Over in the Am category, you've got Ikkei Nagao, Yuta Fujii, Phil Larin, Bryce Noe, Vaughan Johnson, and Nick "spends all his time in a shipping container" Beaulieu.
After Rick McCrank entered last year's event, Chris Haslam expressed an interest in joining in for 2018's event. Will he turn up? What division will he enter? And will he bring pizza? Book a plane ticket and find out.

I got an interesting message this week from Japanese legend and my fellow Moonshiner Toshiaki Fujii; it sounds a lot like the Japanese are keen on stopping all the filthy gaijin from invading their annual All Japan Pro event by hosting this year's World Freestyle Championship. Details are thin on the ground right now, but it seems like it'll be your typical Japanese tightly-organised, well-planned, heavily-promoted freestyle event, and held sometime around late October or early November.
I've never known anyone say a bad word about a Japanese event, and they always have huge and well-engaged crowds, so this is one worth making the trip to. I've been thinking about heading over there for years, and I think this time I'll finally make the journey. I better start studying Kanji now.

This is your mandatory Paderborn reminder: the BBQ weekend kicks off on the 30th June. I have no new news regarding the most significant event in the freestyle calendar, I just want to make sure everyone knows about it. Come and camp next to a skatepark for a couple of days, drink yourself inside out, and bear witness to some of the most ridiculous freestyle you're ever going to see. The only excuse I'll accept for not coming is a rare allergy to Germans. That or a crippling fear of schnitzel, sauerkraut and bratwurst.
Christian Müller is a regular at the Paderborn comps, bringing a bit of old-school '80s street to the weekend, and while I usually hate foot-on-the-floor stuff, it's impossible to not love Christian, especially with G-turns this good.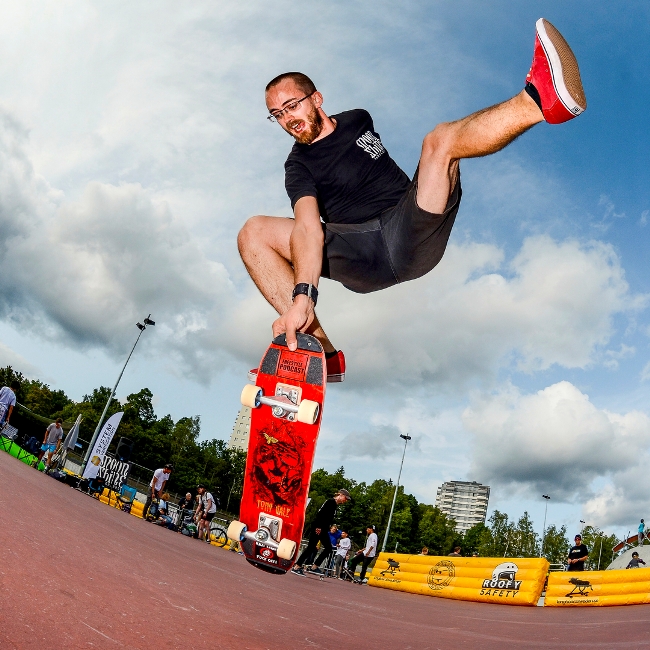 Tony is a professional freestyle skateboarder from England and rides for Moonshine Skateboards, Seismic, Jimmy'z and Synopsis Bearings; he's only been writing these reports for a few months and he's already running out of witty ways to write these profile things. That's what a steady diet of coffee and whisky will do to you. Just say no, kids.