Sometimes, things don't exactly go your way. Sometimes, things go far better than you could have ever hoped for. Or even, dreamed of. This was one of those rare weekend diversions that memories are made of. This is the sort of weekend that explains why I spend so much time out on the open road, traveling to weird, strange, obscure, and little-known places to go skateboarding. You just never know what you're gonna find out there, patiently waiting to be discovered. There are surprises, quite literally, right around every single corner of this great country of ours. My mission in life is to be pleasantly surprised at every turn. This weekend, I was not let down.   
I was not really expecting this weekend to be all that great. Being a salary employee at a trucking company means lots of deviations, distractions, and unscheduled working days. Saturday was one of those days that I found myself unwittingly working way too late, and far too hard. Not that I mind too much… my job, after all, is usually pretty damn entertaining and enjoyable… but, it did wreak a bit of havoc with my travel plans for the weekend. Which it regularly does.
I was also pretty tuckered out. I'd been skating, touring, writing, photographing, and yakking a lot over the past month. I did need a bit of a break to rejuvenate and recharge. I decided that a quick trek over to Buckeye was just what the doctor ordered.
The Buckeye Air Fair; a local, small-scale, free-to-see air show. Thought I wouldn't? Real nerds (like me) never pass up a chance to geek out over classic airplanes. February, 2017. Illustration by the author. Views of Estrella Mountain from across a typical Buckeye cottonfield (upper center), and from the peak of a nameless mountain at Buckeye Regional park (lower right).
Buckeye does not have a particularly good skatepark. I knew that already. I've seen it before; it's not all that impressive. The skatepark consists of a bunch of cookie-cutter steel prefab ramps on a concrete slab. Not that big of a deal at all, and definitely nothing to get all that excited about.
But, Buckeye does have a pretty amazing camping attraction over at Buckeye Regional Park, a free-to-use facility with minimal policing and extremely sparse facilities. It's basically boondocking, but with official permission. As a result of the overly sparse facilities, only a very few (extremely hardy) camper-customers ever utilize the campground. But the place is really quite a spot, if you have an adventurous spirit that is inclined to give the place half a chance. The bonuses include beautiful, wide-open skies; lots of bright stars (far away from the city lights); ample mountain-climbing opportunities; and fantastic, panoramic views of the valley from the tops of the many knolls that pepper the place. It's a fairly well-kept pseudo-secret, one that I profit from quite regularly. And it would allow me some downtime this weekend to play the "typical tourist", to boot. A role I enjoy playing, and playing well, from time to time between solitary skateboarding expeditions.

Buckeye is a former farming community that has undergone a bit of a modern movement to become one of Phoenix's burgeoning "bedroom communities". Fields that once produced cotton, citrus, flowers, and alfalfa now sprout Middle-Class McMansions at an alarming rate. Many of these middling communities are queued up on either side of the I-10, a few miles north of midtown. But Buckeye Proper still retains the old-school, main-street feel of many familiar farming towns. It actually reminded me quite a bit of rural Indiana. But in a much more arid, highly irrigated desert environment.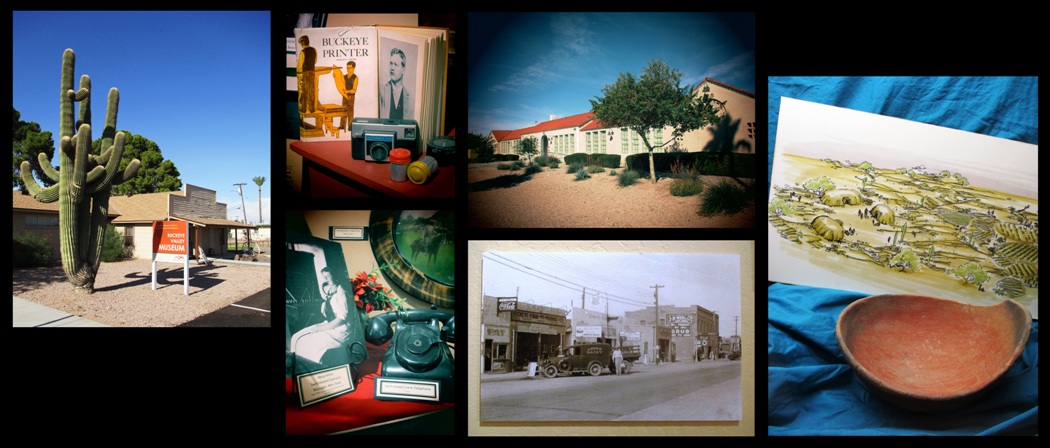 Clockwise from upper left: The Buckeye History Museum; vintage photography tools of the trade; Buckeye Union High School, on the National Register of Historic Places; Hokoham pottery display at the museum; historic downtown Buckeye, circa the mid-1930's; more vintage artifacts.
The Buckeye History Museum was really fun. Small, but super friendly and informative. The lady manning the front counter was gabby as hell. She was probably just really lonely; it seemed like maybe this museum didn't see too many visitors. Although it was centrally located on the "main drag"… i.e., Maricopa County Route 85… the reality is that the real "main drag" was the whizzing interstate to the far north of town. Buckeye, in the grand scheme of things, is a tiny, inconvenient diversion that most travelers would probably go well out of their way to avoid in their mad rush to get to Phoenix or Los Angeles. But the tale of the valley's native Indian and transitory migrant past, and the stories of turn-of-the-century cotton farming (and the hardships and opportunities that came along with increasingly irrigated and industrialized agriculture) were extremely fascinating. The museum was really well-done, for being such a small little facility. I was glad that I took the time to stop in and check it out.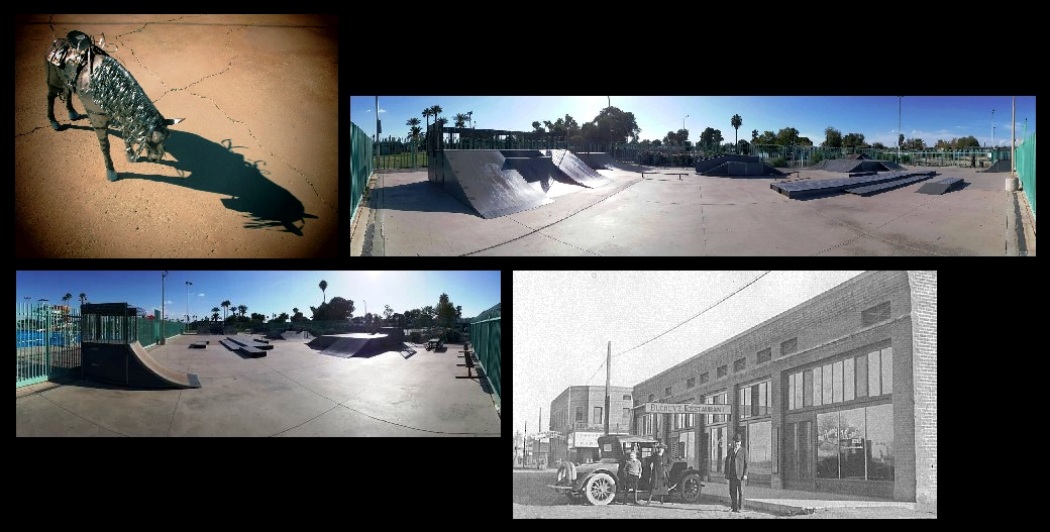 Clockwise from upper right: Staring at his own shadow; Buckeye Skatepark; downtown Buckeye, circa 1930's; another view of Buckeye Skatepark. Note the bright reflections from the scorching sun. It gets hot out here. Damn hot…!
The skatepark, on the other hand, was actually far worse than it looked from afar. There were lots of obstacles between the obstacles. Not like, "Oh, look, a fun-to-skate obstacle!" More like, "Holy shit, I could seriously impale myself on that damn thing" sorts of "obstacles". And then, there were those skatewheel-sized expansion joints in the concrete slab that I only survived by bringing 92a, 60mm Bullets with me for my outing; anything harder or smaller, and death would have laughed his pansy-pants ass off at my extreme expense. The park was really hard to skate, to put it generously. But, y'know… it's all part of the job. I took a few runs to say that I skated it, did a couple carves and grinds, and somehow lived to tell y'all about it. I consider that a high achievement worth being pretty proud of.
Clockwise from upper left: A super rough ditch find out in the open desert (it takes a determined soul with big, soft wheels to skate it); The historic Gillespie Dam Bridge on old US Route 80; abandoned cabins on Old US 80; steel artwork; the remnants of the broken Gillespie Dam; Gillespie Dam postcard before the breach, photo from bwcdd.com; window to the world; a combine hard at work in the arid agricultural valley along US 80. Yes, I'm a total history geek. Sue me.
In between checking out the air show, poking around the history museum, and scoping out some rough-as-hell skate spots, I decided to take an impromptu trip down Old US 80, one of the more storied (but lesser known) of the decommissioned US highways. Route 66 tends to get all the glory, while all the others (like US 80) are rapidly fading into a forgotten obscurity; the contributions they made toward building our great country are steadily being lost to the blowing sands of time and indifference. Wholesale abandonment exists out there, far off the beaten path, which is a treasure trove of investigation opportunities for the urban explorer in me.   
Clockwise from left: Camper and scenery illustration by the author; the sun sets over the western desert mountains; my campsite at Buckeye Regional Park; the panoramic view from the knoll behind my campsite.
Not only do I camp out at Buckeye Regional on a fairly regular basis, I'm also a bit of a caretaker when I'm there. By necessity, not necessarily by choice. Fact is, Buckeye Regional isn't really "maintained" in the same manner as White Tank, Estrella, Lost Dutchman, or any of the other area regional parks are. The grills are almost never used, so they're prone to cultivating a severe case of rust. And the "landscaping" is completely ignored by whoever's tasked to take care of such things. My campsite for the evening was the same as they always are at Buckeye Regional: in dire need of a little bit of TLC. So, again, I spent my evening burning the dead branches of a Palo Verde tree (they're great at keeping the flies at bay), and sanding, priming, painting, and seasoning the on-site grill before I made my dinner.
"My Dinner", by the way, was f'n delicious. You should be openly jealous of my suave cooking skills. It included sweetly seasoned burgers with sharp swiss and cheddar cheeses, topped with my garlic and brown sugar BBQ marinade; spiral-cut sweet potatoes sprinkled and baked with butter, paprika, and parmesan cheese (among with a few other secret spices); potato, macaroni, corn, and arugula salads; and a few tasty desserts brought by my friend Brooke, who graciously joined me for the sights and sounds of a brilliant evening out on the high desert. The cedar-and-pine campfire smelled sweet, the ghost stories were spectacularly spooky, and the stars were burning bold and bright. Camping and skateboarding, as it turns out, complement each other pretty damned well.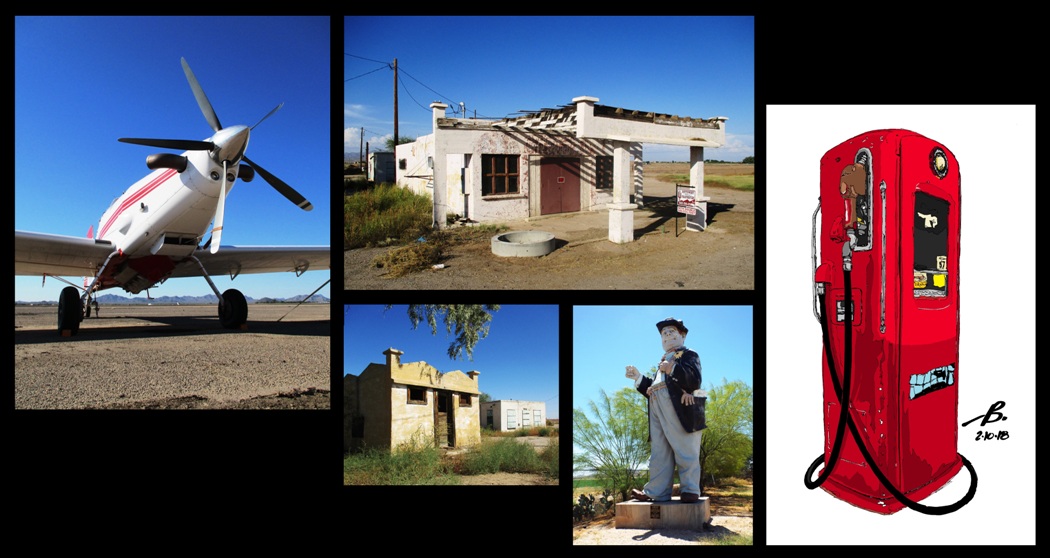 Left to right: Air Tractor crop duster at Pierce Airport, on the far outskirts of town; cabin and gas station abandonments along Maricopa County (MC) Route 85; Hobo Joe, a Buckeye institution, now in storage undergoing restoration (photo from Wikipedia commons); gas pump illustration by the author.
The next morning, I woke up bright-eyed and bushy-tailed, ready to rock and resume my ambitious tourist-itinerary, which included exploring various airfields and abandonments in and around Buckeye that I had spotted in my travels the day before when… completely out of the blue wild yonder… I spotted one of those every-skater's-dream-scenarios: a brand-new, perfectly clean and smooth drainage ditch complex under construction. Along with an isolated, unmanned, and totally unsecured construction site, complete with an easy-access ingress road, and all kinds of convenient parking. No security, no hassles, no worries, and not a single problem. Just a bunch of frolicking fun under the bright, relentless midday sun.

A few views of my incredibly fortunate find, somewhere in the open desert wastelands near Buckeye, Arizona. Get your ass out there, and go find it for yourself. Gas station trailer billboard illustration by the author.
The ditch was long, tall, and super smooth. It must have been an easy 6' deep, maybe even a shade deeper. It featured… of all the good and fortunate things… slight, yet smooth transitions between the flatbottom and the walls. It had the typical "brushed" concrete finish, but it wasn't so rough that it posed any sort of super-outlandish injury threats. Quite the opposite: if you didn't know any better, you'd think that this ditch might have been purpose-built for skateboarding. And the best part was, it wasn't even finished yet. There were still a couple hundred yards left to be poured. You could tell just by looking at it that it was gonna be epic when it was done. Hell, it was pretty damned epic already.
Boy, was that ever the find of the year. Quite possibly, the find of a lifetime. And all because I went to document a crappy skatepark, and do a little bit of impromptu camping out in the middle of nowhere. Who would've thought that I'd stumble across my own little slice of skateboarding heaven in the process…?
The finished product. The dream is real. And it's out there, just waiting to be discovered (and skated). I still have no idea what Plaid Stamps are. Studebaker illustration and by the author. 
Kids everywhere, listen up: Dreams do come true. The adventures are out there. They're just waiting on somebody… anybody… to get up, get out, initiate the search, and discover them for themselves.
The only missing variable in this equation, is you.