There's been a bunch of stuff sitting in my inbox collecting dust over the past few weeks. So, with that finally (and reluctantly) acknowledged, I decided it was high time to peck out a quick Newsworthy segment. Let's have at it:
In Concrete Wave Magazine news, the "Mystery Contest" is well under way. I've been playing along, and it's been a real hoot. I just got this update a few days ago:
"We have now given away the following:
– Vol 1 No 1 of Concrete Wave
– Frank Nasworthy's URETHANE WHEEL
– A Flying Aces deck with over 40 legendary signatures
– A personal letter outlining my vision of the next 20 years of concrete wave
We are now ready for our next giveaway. Per Welinder, the legendary freestyler who was a pioneer of street skateboarding will be sending our lucky winner the following:
– Welinder t-shirt
– A personal letter signed by him
Check out these ground breaking moves from 1985:
So, now you know the prize, tell me why you want to win it.
Note: if you have already won, you can't win again – but you can definitely bring in more people to this contest. We have a few more openings. You have until March 15 to enter.
My sincere thanks to you all. Good things are brewing in CW land.
Cheers, Michael"
This might be something that you'll want to jump on, especially if you're a freestyle fan. Simply e-mail mbrooke@interlog.com to enter.
The fellas over at Loaded always put out the funniest press releases! Here's the latest:
"For Immediate Release:
Culver City, CA – March 2, 2018
Once a legend, now a mystery, his signature style and outlandish personality inspired a generation. We know you miss him, and we do, too. He has not been forgotten, and neither has his truck.
Now the legend is back—at least his truck is, anyway!
Available in limited quantities, Paris (re)introduces: The Adam Colton Signature Paris V2 Truck
Get noticed and enhance your longboarding trickery by 1,000%. Available now at your favorite Paris Truck Co. dealer (quantities limited, so act accordingly).
Taking you back to those simpler times when chopping wood was the only one-footed trick, early grabs were full of grunts, and the best way to improve your balance was by skating more… Check out the crew pushing these monsters in classic Adam Colton style!
Specs:
– Paris V2 180mm, 50° truck
– 90a Paris bushings
– Signature Adam Colton original artwork"
See Adam's re-ish, and the rest of the Paris lineup at www.paristruckco.com.
I always have the funniest exchanges with Ally Redmond over at Turner PR (the firm that handle's DC's media outreach efforts). Today, I got this from Ally: a head-up that DC Shoes is re-releasing some of their iconic '90s skate styles, including (from left to right) the Stag, the Syntax, and the Kalis, in a multitude of colorways (not just the white shown below). We also discussed "Dad Shoes" (apparently, a hot thing in the sneaker world right now), and male uniboobs (hopefully, not a hot thing anywhere). Maybe someday Ally will submit to that interview I've been begging her to do, 'cuz she's such a sweetheart. Until then, check out the rest of the '90s footwear re-pops at www.dcshoes.com.

Like The Label, H-Street sends over regular updates on their newest as well. This time around, it's the new rider from one of my favorites, Dave Hackett:
"Hackett Slash Deck/XL
It's back in stock, with new colorways. The artwork was originally done by Marc McKee for a benefit to raise money for the Hackman when he recovered from a serious bout with cancer number of years ago. It was then issued on a popsicle board, and didn't really show the whole graphic as drawn by Marc.
We love his artwork and saw an opportunity to work with Hackett and Deathbox and put this amazing artwork on a board that Hackett can actually ride, which is 34 x 9.5, with a 6.5 Nose and 7.3 Tail, in a 16 Wheelbase.
The XL is made with the Thick Bitch layup of 5-2, which will support the gnarliest, heaviest duty pool skaters out there.
It comes with Watson's famous hand silk screening, where the grey on the board is a metallic silver, which is hard to tell in the photo but looks super killer when you see it.
This is a very limited run, only 60 boards in total are made. We'd also like to congratulate the legendary David Hackett for making it into the 2018 Skateboarding Hall of Fame, much deserved."
It's about time the Thick Bitch made a comeback; they always make for a great ride, don't they? I might have to up and score one of these puppies for myself…
Also from Deathbox: the newer, smoother, less abrupt David Hackett "Rocket" Model. Now, this is something for me to get really excited about; my old Purple Heart model is wearing a bit thin, and the new Rocket looks a wee less harsh than the previous, much more angular version was. Look to see a What We're Riding on this one sooner than later. See them here, or at http://www.h-street.com/category/deathbox-by-h-street.
Black Label sends over weekly updates, which is super-duper nice of them to do. Below is my pick of the month, the Jason Adams deck featuring his signature spray-can stencil art on a slightly rounded, Jeff Grosso-esque shape. The Kid is always a winner in my book. Jason also has a neat new clothing line out on Thee Teen-Aged called "Tough Kid"; peep the promo video below. God Save The Label; check out the rest of the current offerings at www.blacklabelskates.com.
Scott Oster. Now, there's a legendary name in the skateboarding world. If you don't know, Scott Oster was- hands down- one of the most stylish skaters ever, if not the most stylish skater ever. He has a re-issue coming out this week on Dogtown, here's the full release:
"When you hear the name Scott Oster, the first thing that comes to mind is style. Style on board, and style on land! His frontside and backside slashes are as good as they come to this day, and his G-turns are classic. He is a contributing member of the 1980's Venice Pavilion street evolution, along with Eric Dressen, Aaron Murray, Jesse Martinez and Christian Hosoi.
We are releasing a Limited Edition run of 45 signed and numbered, custom-sprayed, silk-screened Scott Oster reissue decks Made in the USA. The Jim "Red Dog" Muir custom spray has five coats of paint, and features a pearlescent white to Yves Klein blue fade. The Wes "Bull Dog" Humpston graphic art design is hand-screened with custom colors. We will be dropping the boards first come first serve at www.dogtownskateboards.com on Thursday, March 8th at 12:00pm"
Check out the Dogtown x Suicidal website at www.dogtownskateboards.com, or email info@dogtownskateboards.com.
I received an extremely mysterious press release from Seismic regarding a new race wheel they're currently taking pre-orders for. Strangely, there were no pics of the wheels, themselves- just this pic (below) of the beasties in use. Although somewhat vague (and probably intentionally so), you can clearly see that this is a very large, and very wide wheel with an unusually large, almost-centerset core. Here's what the (very descriptive) press release has to say about it:
"A Big Step Forward in Race Wheel Engineering
The Seismic ALPHA
Introducing the 75mm x 63mm Alpha Race Wheel:
– Stout S-shaped lip profile optimizes edge support, maximizes edge-hold under extreme G's, and ensures predictable slide initiation & hookup
– 0.5mm concave running surface pre-loads lips, heightens rebound, and enhances in-slide feedback
– 2% offset for progressive lip engagement and more consistent wear
Debuting our proprietary Fusion Core!
– Measures a whopping 46mm x 44mm – making it the largest & most supportive hub on the market for a wheel of this size!
– Deep "saddle" profile minimizes lateral wheel flex and creates outstanding mechanical lock w/urethane
– Unmatched edge support
– Robust bearing lugs
– Fiber-reinforced 85D – the strongest, toughest hub material in the industry
Poured in two Proprietary Formulas!
Defcon:
– Guinness World Record roll speed
– Directional slide
– Long-lasting grip
– Slow, consistent wear
BlackOps:
– Balanced rebound & grip
– Comfortable & predictable
– Extreme traction fresh
– Buttery & smooth broken-in
Email info@seismicskate.com for pre-order info & pricing!"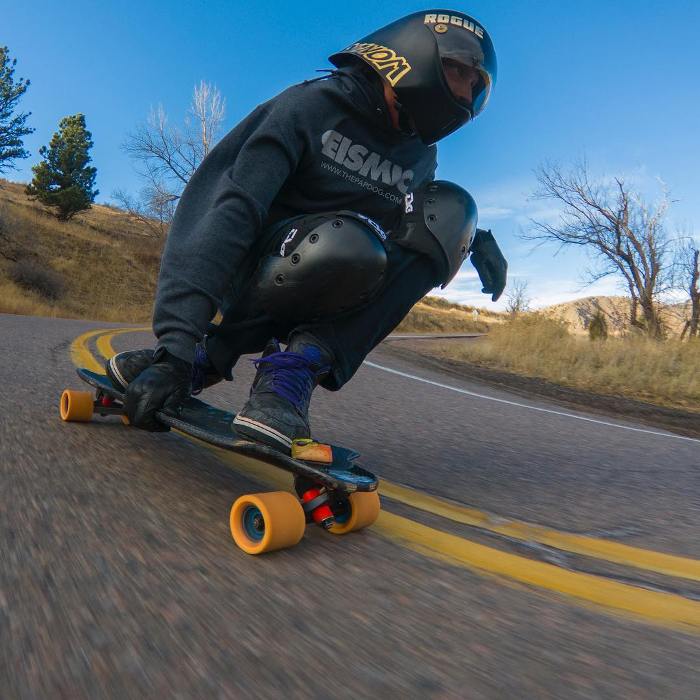 Here's a tidbit from my buddy Jason Renn, with NeverWas Skateboarding (the 'zine we reviewed last month, here) news:
"Maybe you've been wanting to check out what this whole NeverWas Skateboarding hubbub is all about. Maybe you just like old school 'zines. Maybe you just like stickers and t shirts. Either way, here's your chance:
Thanks for all of the writing you guys did over the past few days. The 'zine is shaping up nicely and will be ready to print April 1.
If you would like to get a copy, please check below for more information:
JUST THE ZINE: $2
ZINE and 4 STICKER PACK: $5
ZINE, STICKER PACK and NEVERWAS T-SHIRT: $20
I will use some of the funds to pay for material costs of making the zine. The rest is going to the StupidFest Scholarship Fund.
The shirt that will ship with the zine is the image below. Just PayPal me at rowhouseghost@gmail.com. DM me if you want to use Facebook Pay instead. Include your mailing address and t-shirt size if you are getting one. I will repost this in April when the 'zine is finished."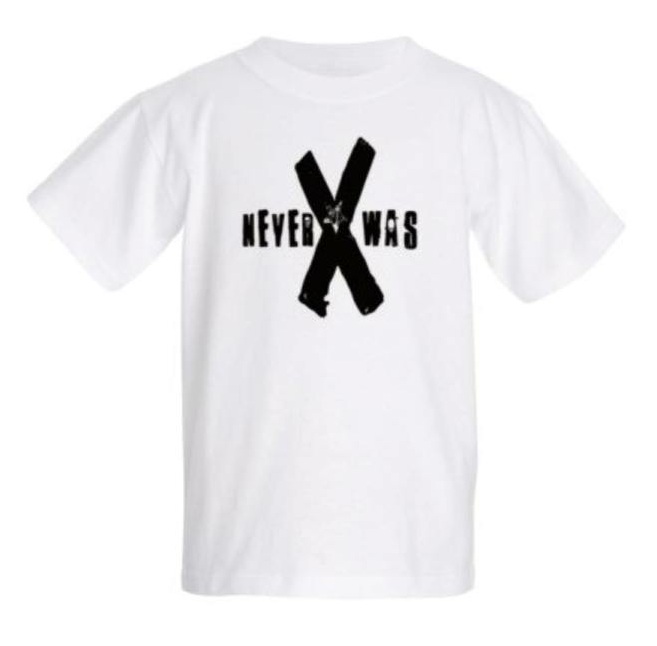 That's it for this month! Laters…!