Because this is the very first issue of the re-launched Everything Skateboarding, the news flow was (understandably) a little bit slow this month. So, instead of posting "the usual news" this month (because there wasn't any), I decided to scrounge around the internet and highlight some of the cooler things that I came across in my weekly web wanderings. Here they are, the coolest of the coolest newsbits that I could find on the 'ol www:

Seismic has a new lineup of decks and completes, available in a wide range of wheel and truck combo options. Built with some pretty exotic materials (including bamboo, biax fiberglass, carbon fiber, and exotic hardwoods) and adorned with sleek, futuristic graphic treatments, these boards are solid lookers that are engineered to be solid performers as well. While I've been waiting for my test sample to arrive, I've been skating the 97a Focus wheels all over The Valley's micro-sized mini ramps. Tough, surprisingly resilient, and super quick, these "freestyle" wheels are actually quite adaptable to all sorts of terrains, with the added benefit of stopping your axles from getting bashed to shit. See them all at www.seismicskate.com.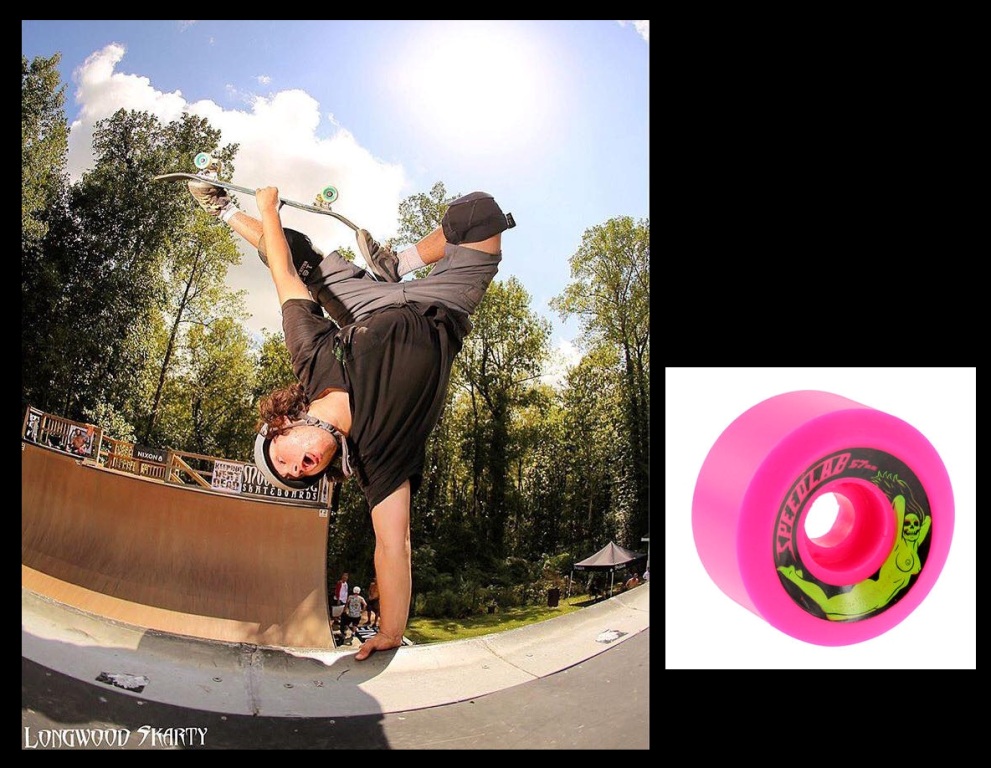 Speedlab announced news that they've added Andre Young to their ever-growing roster of sponsored ams by sending in this invert photo by JJ. Speedlab has a few new wheels in the lineup as well, including the Checkmates, along with their classics (such as the Bombshells, above). See them all at www.speedlabwheels.com.
While I was checking out Speedlab's lineup, I noticed their second collab wheel with American Nomad (the Minis, above), and decided to check out what the Nomad guys were up to these days. This Chopper Chick deck was definitely the eye-catcher of the bunch, with that '70s retro feel. See the rest of the Nomad lineup at www.american-nomad-skates.myshopify.com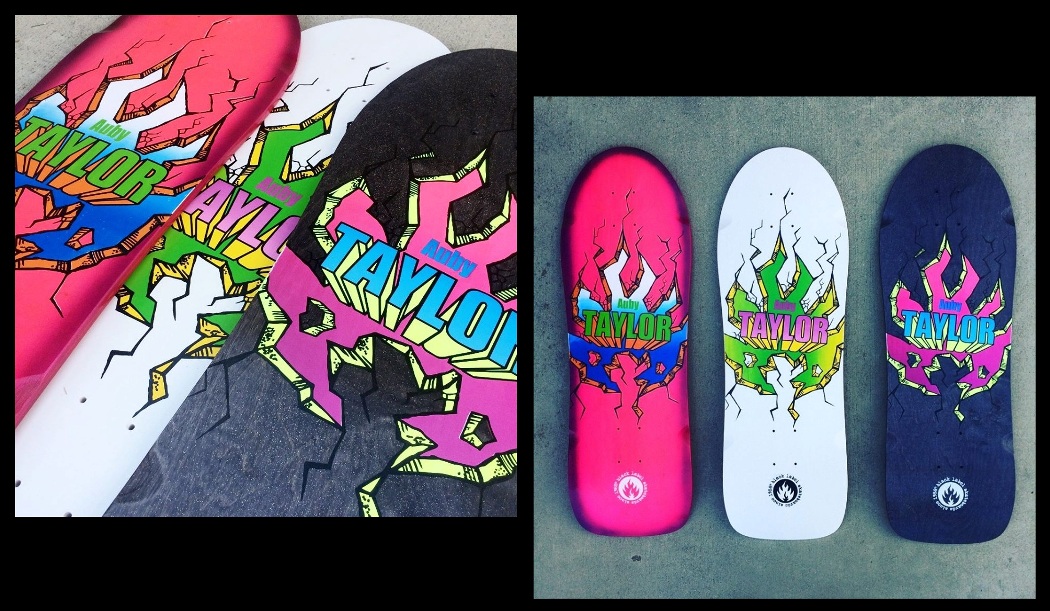 Auby Taylor has released a line of decks on Black Label with a timeless, classic spoon-nose concave; don't worry, his double-kick notch-nose is still in production right beside it. Although it's a "tribute" (read: rip off) of the late, great Jeff Phillips graphics on Sims, it's still the most original of the "reinterpretations" that I've seen in the last few years. God Save The Label, visit them at www.blacklabelskates.com.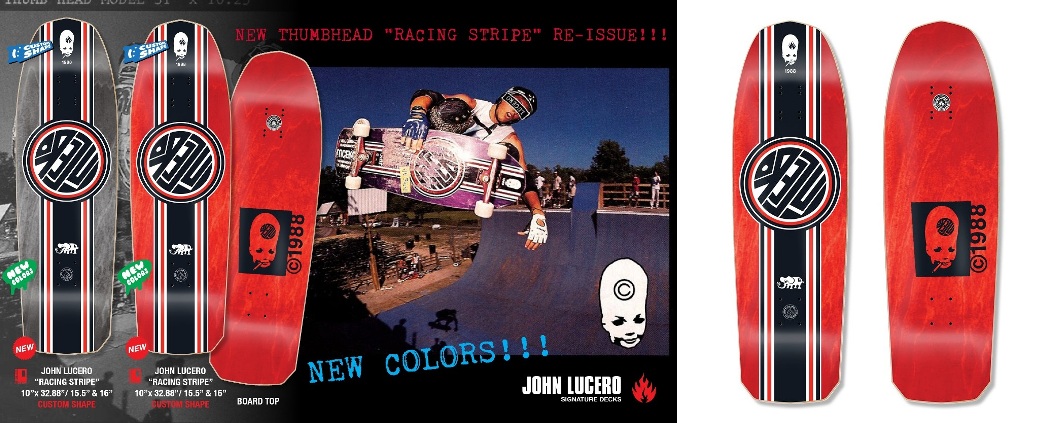 While we're at The Label, we might as well show off the original 1988 "Racing Stripe" John Lucero graphics that they recently re-released. That size, that shape, that wheelbase… Lord, have mercy.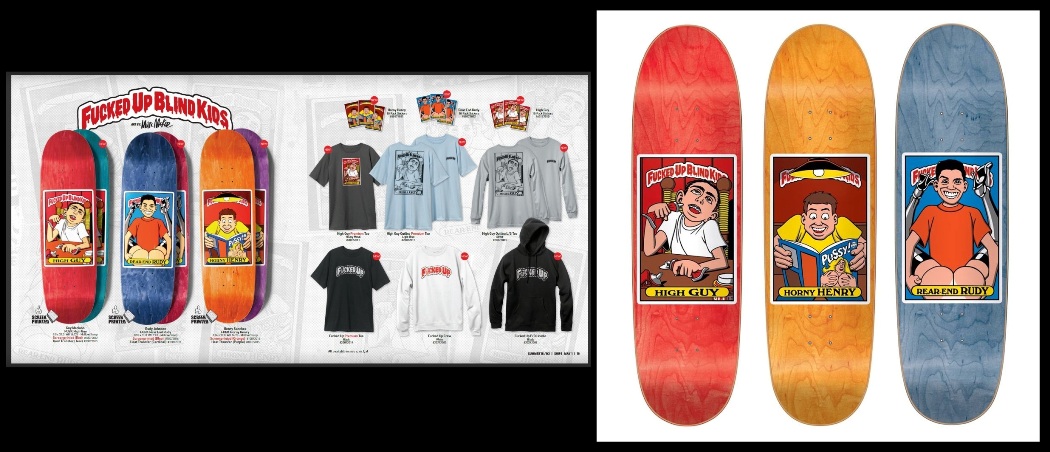 Collectors will surely rejoice at Blind's decision to (finally) re-release a proper "Fucked Up Blind Kids" series (minus the "Jerkin' Jordan" Jordan Richter model), complete with the period-correct, hand-pulled silkscreen treatment. Or, if you're one of those cheap, tasteless bastards that wants to save a measly five bucks (off of the $79.95 MSRP), there's a heat-transfer version available that'll save you almost enough coin to buy a few McDoubles, which are kind of like the heat transfers of the burger world. So, there you go. You are the company that you keep. Support quality shit. See the series at  www.blindskateboards.com, and for heaven's sakes, buy silkscreened.
In other Dwindle news, somebody at Enjoi very wisely decided to turn Samarria Brevard pro. With that, every single guest girl from last year's King Of The Road outing has now entered the pearly gates of the pro ranks. See more at www.enjoico.com.
Somehow, somewhere, Brand X resurfaced with a small (but sweet) collection of reissues. How I missed this, I'll never know; maybe it has something to do with me spending far more time these days traveling around and skating concrete than surfing the f'n computer every hour of the day and night. It might seem like a stupid strategy, but it's workin' for me, buddy. Patrick Truitt (the son of Dorsey Truitt, the original owner) is the guy behind this outing, as well as the Toxic wheel reissue teasers that we've all seen floating around. There's no website (yet), but Patrick and Brand X are both on Facebook; I'm guessing they're probably on other social media platforms as well. Look 'em up, friend them, follow them, and score one of your own. We'll be following this one really, really closely; I am, after all, the proud owner of a couple of the OG's. I've always wanted to ride one. Apparently, this is my chance. Life rocks so hard right now, it's almost scary.
The next issue of Concrete Wave Magazine will be featuring a change in format. Gone will be the days of big, glossy paper; they will be replaced by a smaller, 5.5″ x 8.5″ "'zine" format, and available via a far more discerning distribution system that means that you'll have to be at exactly the right place (namely, a trade show) at exactly the right time (namely, before they're gone) to get one. Ask Mike more about these most interesting plans at www.concretewavemagazine.com.
Ron "Fatboy" Barbagallo (of Longboards by Fatboy fame) has a new program out called Jersey Boards. I haven't seen them up close and personal (yet), but this Surf Van Pintail looks pretty sweet from afar. Congrats, Fatty, from your friends here at The Site. The link that you're seeking here happens to be www.jerseyskateboards.com.
In my "things I just couldn't pass by" segment, I decided to spotlight the Duane Peters graphic reinterpretation on the Cockfight Beer Champ deck, and the Assault Mark Heintzman re-pop of his first pro model on G&S. While his G&S board featured the legendary C-90 Series concave, the re-pop has a much more mellow (and modern) double-kick that is well-suited to current street skating. I was lucky enough to meet Mark a few years back somewhere in Ohio; he's a super humble fellow with a smooth, clean skating style. There's just a few of these left, so hurry up and score one while you can; the Ricky Windsor SSD models look pretty outstanding, too. The sites are www.cockfightskateboards.bigcartel.com and www.assaultskates.com/shop.
The Friendship is one of my favorite small companies. They have a really great, fuzzy-warm name, and they have Ryan Gallant; what more could you ever need? That's exactly what I thought, too; great minds do think alike, don't they? Ryan's graphics are an obvious swoop of Matt Hensley's first H-Street "Swinger" graphics, but with a Bart Simpson twist. The photo is yet another up-and-coming female skater, Sam Narvaez, shot by Zorah Olivia, and subsequently stolen from The Friendship website by me, at www.thefriendshipskateboards.com.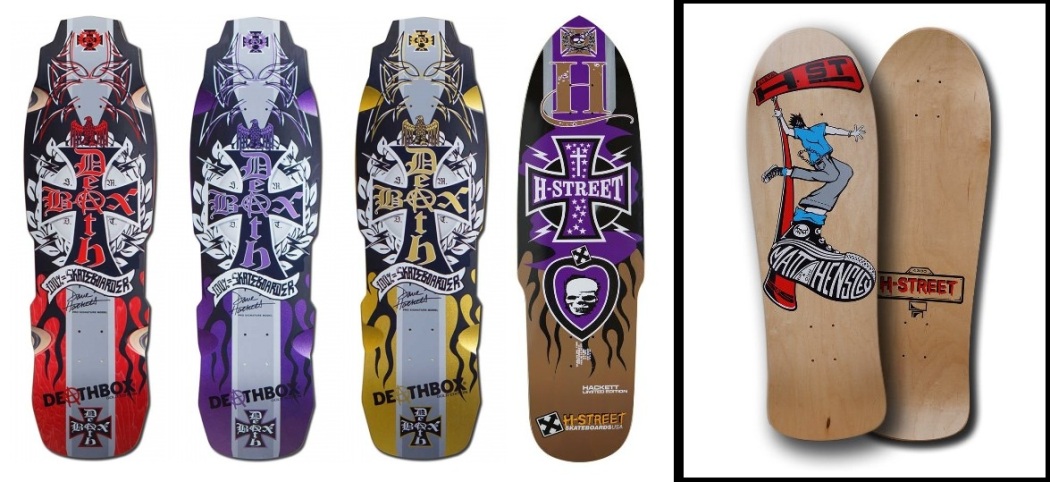 The Matt Hensley Swinger graphic jogged my memory to stop by the H-Street website to see which series of The Magnificent Seven they're running these days (it happens to be Series C, if you didn't know that already); while I was poking about, I also spotted these Deathbox Dave Hackett models (in three colorways) that somehow manage to simultaneously strike me as both strikingly futuristic, yet curiously retro at the very same instant. For those that prefer a far more traditional Hackman shape, H-Street still has a few of the legendary Purple Hearts in stock as well. www.h-street.com
In case you completely biffed it, the biggest reissue news of the fall was the extremely limited (and historically accurate) reproduction of the Jim Muir Dogtown Triplane Model. The first of the big and burly concave bowlriders, this board literally changed the shape and the feel of skateboards forever. The first release was let loose to the public on November 9th; there will only be two more limited releases before these boards are gone forever. Expect the flipper market on these to be hot as hell for the next decade or so, www.dogtownskateboards.com.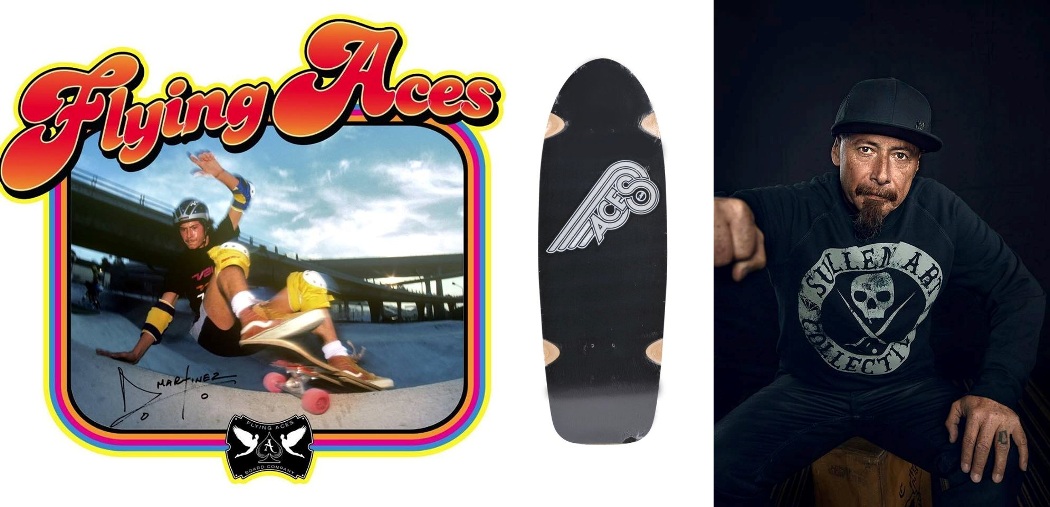 Speaking of biffing it, one of my all-time favorite humans, Dennis Martinez (right), advises (via Facebook) that stocks of the original, Bo-Tuff versions of the classic G&S Flying Aces pig reissues are slowly dwindling away to nothingness. Buy one now or forever rest in regret, www.gordonandsmith.com. As far as the current Flying Aces offerings go, hit Mr. Martinez up on Facebook; he posts there pretty frequently these days.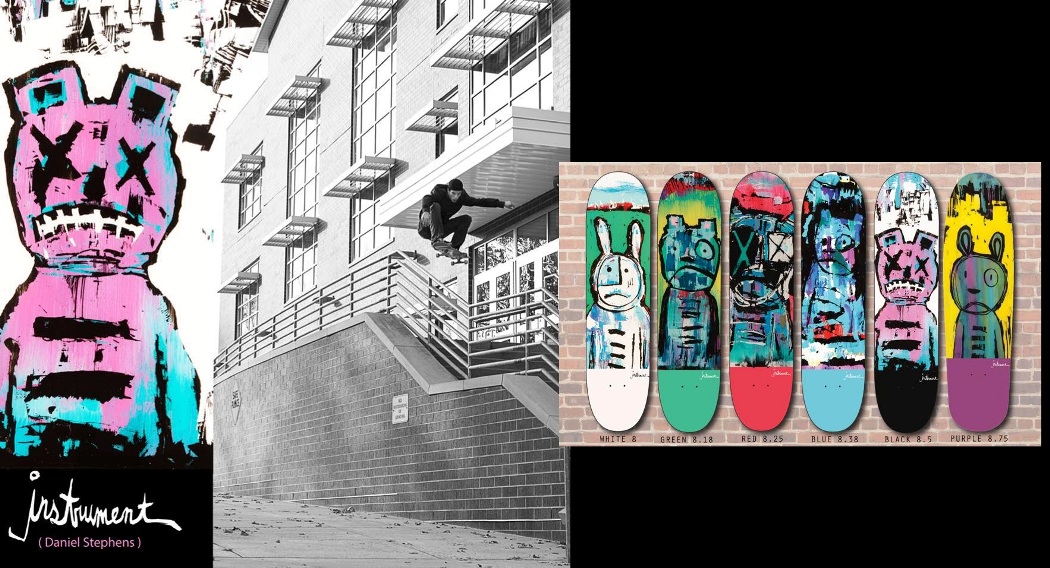 Instrument out of Cincinnati has had some of the very best art direction going on anywhere for years now. Season after season, they never fail to produce something truly beautiful, as the newest Ackels Series (above) illustrates so vividly. The new boards aren't up on the site just yet (www.instrumentskateboards.bigcartel.com), but you can always hit up Gary Collins on Facebook if you need to find a dealer near you.
Skaterbuilt has recently released a classic shape of their own, the Navdrecht II (middle). Based on the original Sims Dave Andrecht model, it's also recently been re-worked by the aforementioned H-Street (right), and in a thousand different subtle varieties by custom quemaker Danny Creadon over at Factory 13 (who was hugely inspired and influenced in his current work by the late '80s Sims classics). If you're wondering who that stylish bloke is on the far left, that's the original hero, Dave "The Raver" Andrecht at Marina Del Rey Skatepark, circa 1980. I swooped the photo from Pinterest "for educational and newsworthy purposes", so only The Good Lord Himself knows who took it, or who should get the credit. www.skaterbuilt.com