Billy Ruff, Sadlands, Los Angeles, California, circa 1979:
Billy Ruff attempts an impossible drop-in at a popular public park which was frequented by skaters such as fellow G&S team rider, Neil Blender.
Brad Bowman, Lakewood skatepark, California, circa 1978:
Brad Bowman was one of a multitude of top skaters who frequented the skatepark and honed their skills in one of the most popular skateparks of the time.
Jeff Phillips, Kona skatepark, Florida, May 1984:
Hailing from Texas, Jeff Phillips ripped every terrain and locale, and was a highly respected skater for his smooth and progressive skate style.
La Costa, California MG car commercial, 1977:
From left to right is Mark Bowden, Bryan Beardsley, and Ty Page. The photo captures the three California Free Former team riders jumping an MG sports car during practice for a commercial for the car company.
Micke Alba, random hotel shenanigans, 1978:
Traveling on the road for various skate contests and events often left skaters with little outlet for their high energy when back at the hotels. Micke Alba performs some skate fun here on one of the hotel beds, but the antics often turned more destructive in the quest for more fun when not skating.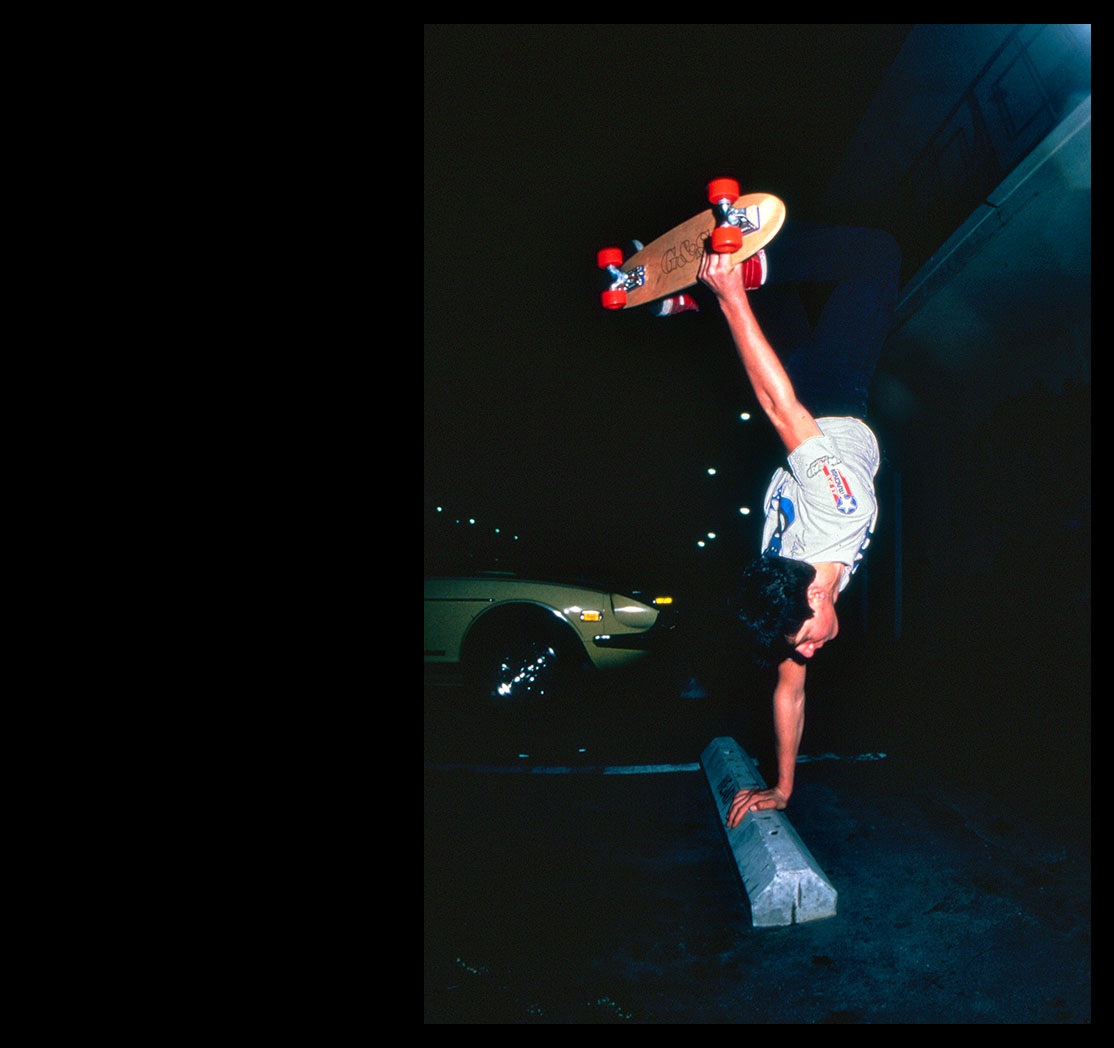 Neil Blender, hotel parking lot invert in Virginia Beach, Virginia, June 1985:
During the 1985 Mt. Trashmore contest in Virginia Beach, we had lots of time with little to do before and after the contest, and Neil found some fun on a parking stop outside the hotel room.
Robin Logan, Del Mar skatepark, California, February 1979:
Robin Logan was one of the top female skaters of the time, and this was from a session for an ad for a portable Walkman-type music player that was fitted on the chest and versatile for all types of action sports.
Tony Hawk, Mt. Trashmore, Virginia Beach, Virginia, June 1985:
Tony Hawk was already one of the top, most winning skaters of all time, and was a force to be reckoned with at this local Virginia Beach skatepark built on top of an old trash dump (hence the name).