To the generation of skateboarders who, like myself, learned to fall in love with skateboarding through the releases of the Tony Hawk Pro Skater video games, there are a number of reasons that stick out as to what made the gameplay so great. The most paramount, in my opinion, was the design of the game's playable levels and the bounty of opportunities presented each time your character spawned themselves in a new city. What this impressionable generation of skaters saw was a utopia. When I think of it years later, I can still picture levels from Boston to Barcelona clear as day.
Since we first saw some of these games though, most of us have experienced the reality of skateboarding in the non-virtual world. On one hand, constant threats and legitimate citations have come to beset the many of same kids who once thought the skateboarding world was akin to the Pro Skater paradises.
On the other hand, things haven't been so bad. Downtown Portland, OR has lanes devoted specifically for skateboarding in their streets. Colorado has more skateparks per capita than any other state. Hell, the local volunteer skate community of Tacoma, WA got not one, but six parks built in their city. By looking at the glass half full in this scenario, we find a possibility that some dare only to dream of. These skateboard-centric utopias are a foreseeable vision for the future of American cities and beyond.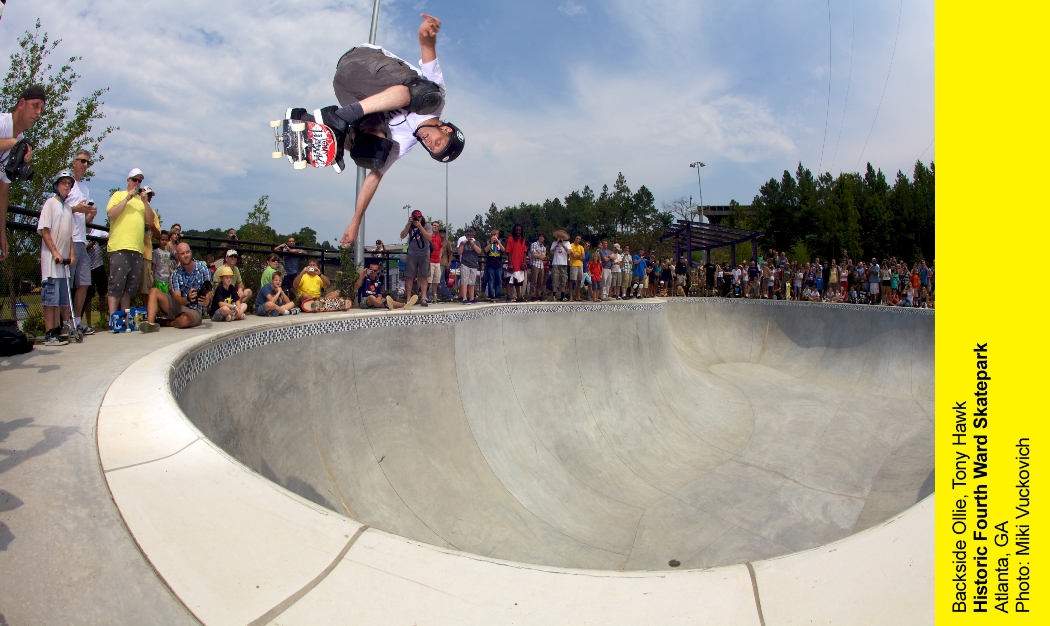 However, the truth of this matter is that no progress can happen without skateboarding advocates. Any successful start in attempting to transform the public's perception of riding a skateboard into something as thoughtless as the act of walking a dog needs dedicated initial support and even stronger continued support throughout the process. Therein lies the problem that Peter Whitley and the folks over at the Tony Hawk Foundation are trying to solve.
At the very core, this essay is a way of shedding light on the underlying issues to this topic. As Whitley affirms, the root of this issue is the disconnect that many skateboarders feel between their personal experience of riding a skateboard, the intrinsic reasons as to why they ride and the ways in which they express those sentiments.
As a skateboarder, it's inherent to acknowledge that we possess certain advantages over the greater part of society that chooses not to skateboard. By this, I mean the grit, the perseverance and the unending need to challenge yourself and find creative ways to overcome those challenges. "Those are things that teachers in every public school across the nation are trying to unlock in their students and yet here, skateboarding is providing it to students as a nuisance activity that teenagers are doing behind the library," says Whitley, Programs Director at the THF.
But what good are these advantages if skateboarders keep them to themselves?
And what does the Tony Hawk Foundation do about all of this anyway?
The answer is simple to state, though it's implications span hundreds of pages. To save the read for now, the crew at the Tony Hawk Foundation wake up every morning and try to enable the next crop of empowered skateboarders. They offer a comprehensive skatepark construction grant program, a national index of skateparks and research and in depth skatepark advocacy training and project consultation. In the Programs Department of the THF, skateboarding advocates often arrive with questions on where they might even begin undertaking a community wide project. Other times, advocates might arrive with some momentum behind their causes and are looking for project support further down the line.
As is, this facet of the Tony Hawk Foundation's endeavors fights for a noble cause. But to truly get and keep a successful build project off the ground, the local supporters need more fuel. Thankfully, THF has it covered. Instead of simply presenting facts and figures to groups looking for hard statistics, Whitley and the crew will help advocates evaluate the question being asked. From there, they offer support in helping advocates to formulate the most effective responses to common but troubling questions from authoritative figures. As Whitley puts it, "I'd rather have everything than not enough."
Finally, perhaps the most powerful offering from the Tony Hawk Foundation comes in a different form: encouragement. This is where they truly live up to their role as a group of skateboarders who exist to save other skateboarders from the psychological pitfalls that can sideline their dreams. In Whitley's words, "Encouragement is providing somebody the tools that they need to feel confident. If somebody's feeling discouraged, it's because 1.They don't see the path through or around this obstacle, or 2. If they see the path, maybe they feel like they don't have the tools to pursue that opportunity." With this combination of psychological and physical support the Tony Hawk Foundation has created a recipe that has helped nearly 600 skatepark projects come to completion over the years.
There is an idea fostered at the THF that the utopian vision of a society allows having fun on a skateboard in every inch of the city is possible. Interestingly, as Whitley explained to me, the THF's goal is to become obsolete in the face of this getting accomplished. However, in times where we stand divided as a skateboarding community and as a society in general, there's still plenty of work to be done. Maybe the best bet is to spend a few minutes thinking back to the old Tony Hawk's Pro Skater games and hours you spent in a virtual city designed to be skated. Then, snap out of it and get to work on transforming your environment into the skate-centric society that the Tony Hawk Foundation is committed to building.