There are a lot of things that SkaterCon is not. It's not quite a contest (although there were contests that happened throughout the day). It's not quite a trade show (although there was a very large vendor's area). It's not quite a swap meet (although there were vendors there, buying and selling lots of neat stuff). It's not quite a punk rock show (although there were several punk bands playing that day, including D.I., Chuck Treece, Steve Steadham spinning some reggae beats, and Since We Were Kids!). It's not quite an art happening (although there were several artists represented, and represented well, at the event). It's not quite a skate clinic (although those are available to anyone and everyone). It's not quite a demo (although there were several pros and ams on hand, skating). And it's not quite a skate jam (although that was also a huge element of the day's festivities). 
SkaterCon is fascinating because it is a little bit of everything that you could ever imagine, yet it can't quite be pigeonholed as anything specific. The only way that it can really be described, is as a celebration of skateboarding (and our culture) that ends up being a shit-ton of fun for skaters of all ages, genders, and abilities. It's also completely timeless, in that it celebrates yesterday, today, and tomorrow in the very same breath. And everyone that was in attendance would probably agree with that assessment.
If they don't, then they either haven't gone to one… or they've gone, and missed the whole point.
Left: Steve Steadham and Bill Danforth. Upper right: The new STDMZ kicks. Lower right: The prismatic Steadham decks look gorgeous in the sparkling Arizona sunlight.
This year's SkaterCon was cut back to a one-day event, with various pre- and post-event happenings surrounding the day. That was actually a bit of a relief, as far as I was concerned; previous SkaterCons were a flurry of activity, all weekend long, that left me completely spent and exhausted by Sunday evening.
The single-day event, on the other hand, was just about right. You got to see and enjoy everything that the day had to offer, but it didn't tucker you out too terribly.
Left: Cover guy JJ Brown backside disasters the 8′ narrow, rickety Shiner Gold (aka, the old Bare Cover) trailer halfpipe from the 1970's. Right: The Time Traveler getting in some pumps and kickturns on the former Bare Cover ramp.
This event is extremely forward-thinking. That gentle reminder cannot go unstated. Adam [Richards, the man behind the SkaterCon plan] has come up with a template that blends the best of every single imaginable skateboard-related good time, and tossed them all into a giant stew where the whole is far greater than the sum of its parts. This was the third year for SkaterCon, and this year we saw some real industry heavies come out to participate, including Steve Caballero and Christian Hosoi, along with alumni such as Billy Ruff, Steve Steadham, Jesse Martinez, and Bill Danforth (among a whole host of others).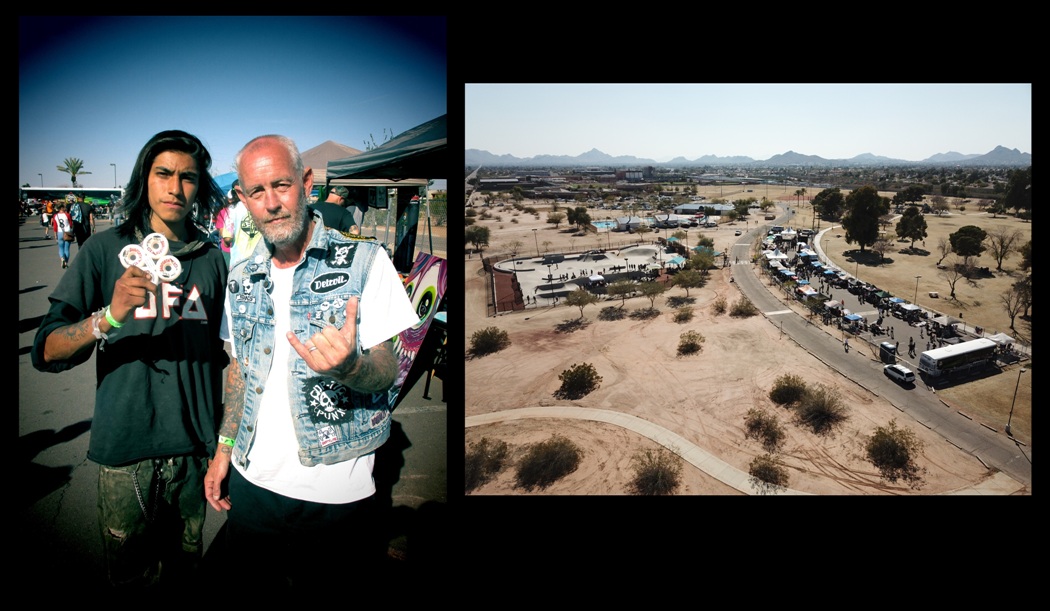 Left: Bill Danforth and fan. Right: The overview of the festivities, drone photo by Jessie Pena.
However, a large part of our industry was also conspicuously absent. I'm not sure how long it takes our beloved (yet hyper-conservative and notably un-innovative) industry to recognize that something of unique significance is happening right under their noses, but apparently it's more than three years. Maybe Year Four will be the year that we see some of the bigger players step up, and decide to play the game, play it well, and play it right.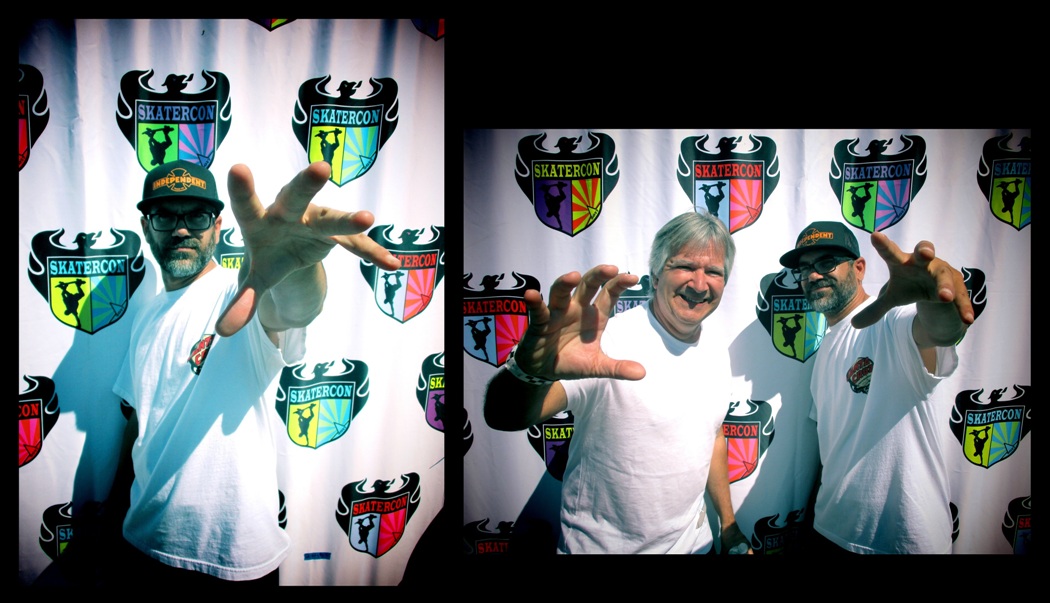 Left: Adam Richards, the event founder and organizer. Right: Famed skateboard collector Daymond D. Dodge loved Adam's pose so much, he had to jump in on the action.
The best part about this event is that, unlike trade shows, everybody is invited. The manufacturers, companies, the brands, distributors, retailers, fans, kids, families… the arms are wide open for everybody to join in on the fun, and participate on an equal footing. It recognizes that every link in our industry chain, from the marketer to the consumer, is vital and integral to the overall health of our pastime, and our industry.
Left: Christian Hosoi in the pit. Right: Christian phone-films Omar Guerrero flying around. I think that's a Christ air that Omar's about to land right there, as Christian (and the Jesus on Christian's arm) look on.
It's also extremely inspiring. And that's saying quite a bit, considering that I've become a little bit jaded after working in this industry for over twenty-five years now. The fact is that these events… due to their innate relate-ability, and their relative ease of organization… are well within almost any community's grasp. Adam has proven, three years running, that one guy (with a little bit of mojo, and a whole buncha help from his friends) can put together quite a juggernaut of an event, and take on much "larger" events on a relatively equal footing, while staying remarkably true to the spirit of skateboarding the whole time.
This is a template that more and more skaters will surely be adopting in the near future. Many of them are adopting it already in their own communities, and making it work; even here in Phoenix, there are also a whole host of event activists that are putting together smaller-scale events in and around The Valley on an almost weekly basis that were probably inspired (to some greater or lesser degree) by Adam's initiative, and subsequent success. Austin's Stupidfest (coming up in October) is another upstart regional skate event that is quite  different in the finer details, yet remarkably similar in the sense that it's a small group of skaters putting on a rather large, ambitious event that attracts skaters from far farther and far wider than anybody might have dared to imagine. The "if you build it, then they will come" cliche is, after all, an ages-old truism that still manages to surprise some of us from time to time. But a big 'ol reminder from time to time never hurt anybody.
Left: Beautiful, three-dimensional skateboard art by some guy I'll have to chase down and remember. Right: Lonnie Hiramoto with a Kanoa re-pop. If you look real hard, you can spot Daymond D. photobombing in the background.
We'll see how it goes… I'll be there, covering that event as well… but the bottom line is that events like these are a sign that skateboarding activism is finally working the way it should have worked all along. It represents skaters taking skateboarding back from The Industry, taking it back to its roots, and doing things by, and for, ourselves on a massive scale.
That is something that our industry should be supporting far harder than it is. At the end of the day, it only helps them. It might even help them more than they realize: namely, by taking the massive pain-in-the-ass of organizing these super-ambitious gatherings off of their shoulders, while presenting them an immensely personable (and popular) platform from which to promote themselves in a genuinely meaningful (and sincere) manner to their immediate customer base, ie, skaters and skate retailers. It's a win-win-win-win for everyone… provided that everyone shows up, lends a hand, and participates.
But when the skaters show up (in droves), the shops show up, the artists show up, the bands show up, the pros and ams show up, and the living legends show up, but a critical mass of brands is notably missing… it creates an obvious chasm that is pretty difficult to reconcile.
Left: Eight-year-old skate entrepreneur Jeff Holmes (of Skate Jerk) studying up on his skate history, and showing off his autograph collection. Upper right: More of that artist I wish I remembered right now. Lower right: The crowd at the raffle.
Phoenix is only a six-hour drive from LA, and counts 4.6 million inhabitants in our metro area- the 12th largest in the US. Surely, this is a metro market that's well worth paying attention to, isn't it…?
Left: Wray Bros representing. That's Jonas Wray on the right. Right: Jonas Wray and a fan, mugging it up for the camera.
SkaterCon is already slated for late-February, 2019. That's only about 320 days away. Put it on your calendar, for pete's sakes, and be there this time around. It's the sort of event that you really shouldn't have missed in the first place.
Left: Airbrush art by Sean Treves. Right: Lamebrain has some of the funniest graphics ever.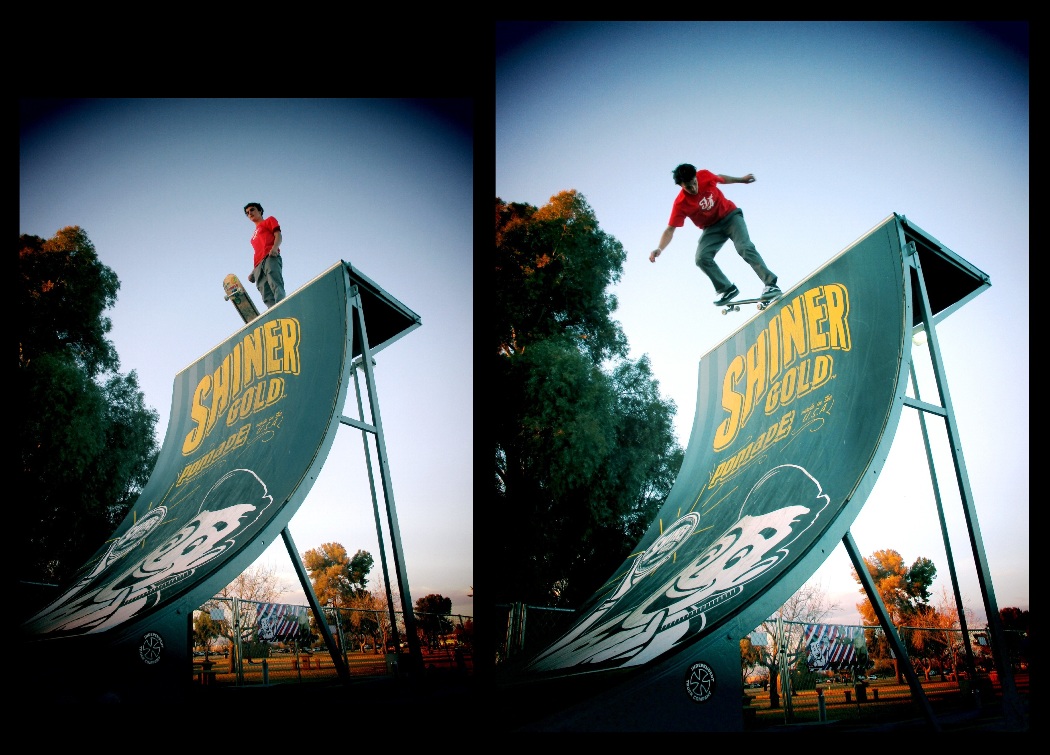 Left: Flying Aces teamrider Skyler King contemplating his next move. Right: Skyler balances high astride a backside nosepick in the fading Arizona daylight.