The second annual Phoenix CitySkate longboard cruise… the first grassroots skateboard event to be organized and hosted by Everything Skateboarding Magazine… happened this past weekend. Here's the rapid-fire field report of the day's happenings:
The Phoenix CitySkate series of longboard cruises are meant to be easy-going, relaxing, recreational skateboard events that anybody and everybody… regardless of age, gender, or ability… can freely come and participate in. The whole idea is really simple: to get a bunch of people that wouldn't ordinarily skate together to meet up, mingle a bit, and go for a fun roll through the beautiful cityscape. Thus, "CitySkate".
It's the type of event that's extraordinarily easy to put together, organize, and host. I actually introduced myself as the "disorganizer" for the event as people arrived on Saturday morning for the cruise, which everybody found kinda funny. But it's not entirely untrue, as I took great pains to explain. It's just a matter of defining an enjoyable route, making up a [crappy] flyer, making a zillion copies of it, and then leaving those zillions of copies at every skate shop in the city, and/or posting the hell out of it all over social media. And then, hoping that every body else shares the shit out of it. It totally worked! People actually showed up!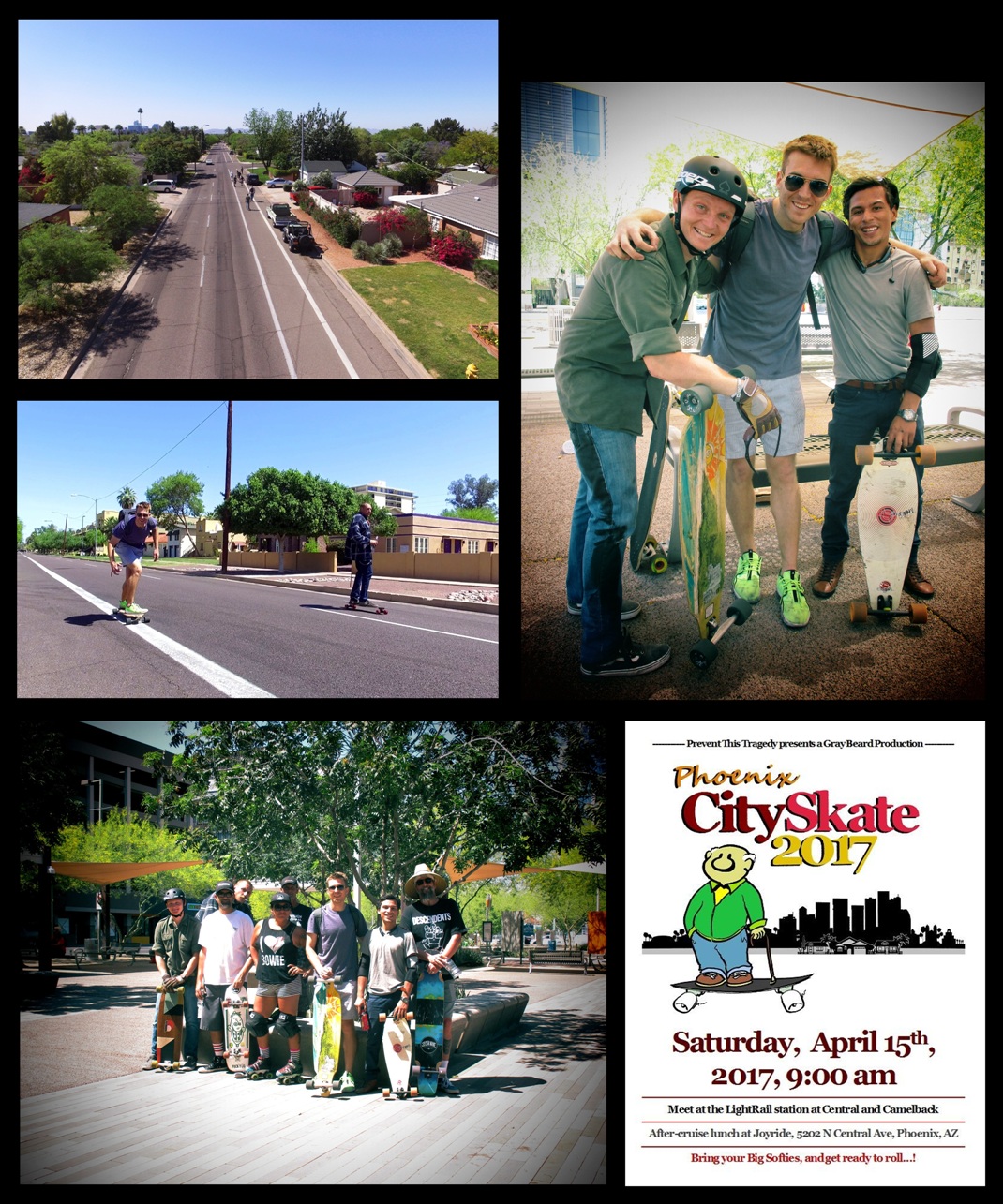 Photos from last year's event, and the [crappy] flyer. Clockwise from upper left: the sky-high view of the crew rollin' into town, photo by Jessie Pena; Jon, Alex, and Andrew; the flyer; the crew; Alex and Sketch, rolling along and having fun, photo by Jessie Pena. 
Last year, when we did our first CitySkate cruise, we had about nine people participate. This year, that number jumped to about twenty-two. That's quite an accomplishment, I suppose. But that's not the part that I'm the most proud of.
All attendees received "Thanks For Attending" prize packs, filled with goodies provided by our our sponsors: Concrete Wave Magazine, Carver Skateboards, Seismic Skate Systems, Loaded Longboards, Orangatang Wheels, Bamboo Skateboards, Abec 11, Concrete Disciples, along with local skate shops Scottsdale Sidewalk Surfer, Freedom Boardshop, State Rideshop, and Cowtown Skateboards. At my events, "nobody has to compete, and everybody is a winner".
The best part of the cruise, were the participants themselves. They were all so cool, so happy to have been invited, and so respectful of everything and everybody, that it was basically an organizers' wet dream come true. The whole thing went off without even the slightest hitch, a feat that everybody that came can take credit for.
The cruise started at 9 am at the lightrail station at Central and Camelback in midtown Phoenix, a swanky part of the city that's defined by the crash-up of '50s moderne, Bauhaus, art deco, and cubist architecture. This lightrail station also features a huge park-and-ride parking lot, which makes it an almost perfect place to host a huge skateboarding meetup.
Clockwise from top: the demo boards, provided by Loaded, Seismic, and Carver; Roosevelt Row street art; bold '20s-era architecture in the upscale Kenilsworth historic district. 
Skaters never arrive anywhere on time. You know this, I know this, and everybody else knows it, too. Knowing this as well as I do, I brought along some "demo" boards to kill the time while we all waited on the inevitable stragglers to arrive. The boards were a Carver CI Flyer, a Loaded Icarus, and a Seismic 36" Compass. The Carver got a lot of parking-lot use, while the drop-through Icarus and Compass came along for the seven-mile push, and got shared by everybody along the way.
The itinerary took us through the historic Pierson Place, Yaple Park, Willo, Encanto-Palmcroft, Kenilsworth, and Roosevelt neighborhoods, with a restroom-and-water break at Encanto Park. The whole route runs slightly (but imperceptibly) downhill toward the Salt River Basin, and through Phoenix's most diverse architectural specimens, representing the city's history of growth from a burgeoning agricultural center to a modern residential, commercial, and cultural oasis.
Clockwise from upper left: happy skaters; the crew rolls down 3rd Ave to McDowell Road; art deco home in Yaple Park.
The cruise only took a couple of hours, even at our leisurely pace. Afterward, we hopped on the lightrail, took the electric trolley back to our cars (that were parked under the handy shade structures all morning long that kept everything comfortably cool), and made the quick, half-block commute to Joyride on Central Avenue for platefuls of gourmet tacos, and pitchers of margaritas and craft beers. Our brand of longboard cruisers is a sophisticated bunch of skaters. As such, we like to eat, and eat really well after a full morning of fun exercise and fresh valley air.
The participants ranged from about eight years old, to roughly forty-eight. That's a 40-year spread, right there. Yet everybody got along famously, and everybody had a great time. The group would spread out, with the faster skaters charging ahead and the stragglers slowly making headway farther back in the pack… but the faster skaters stopped pretty regularly, shot the bull, and waited on the group to re-form. That's probably the bit that I'm the most proud of- that everybody meshed so well, and nobody felt left out.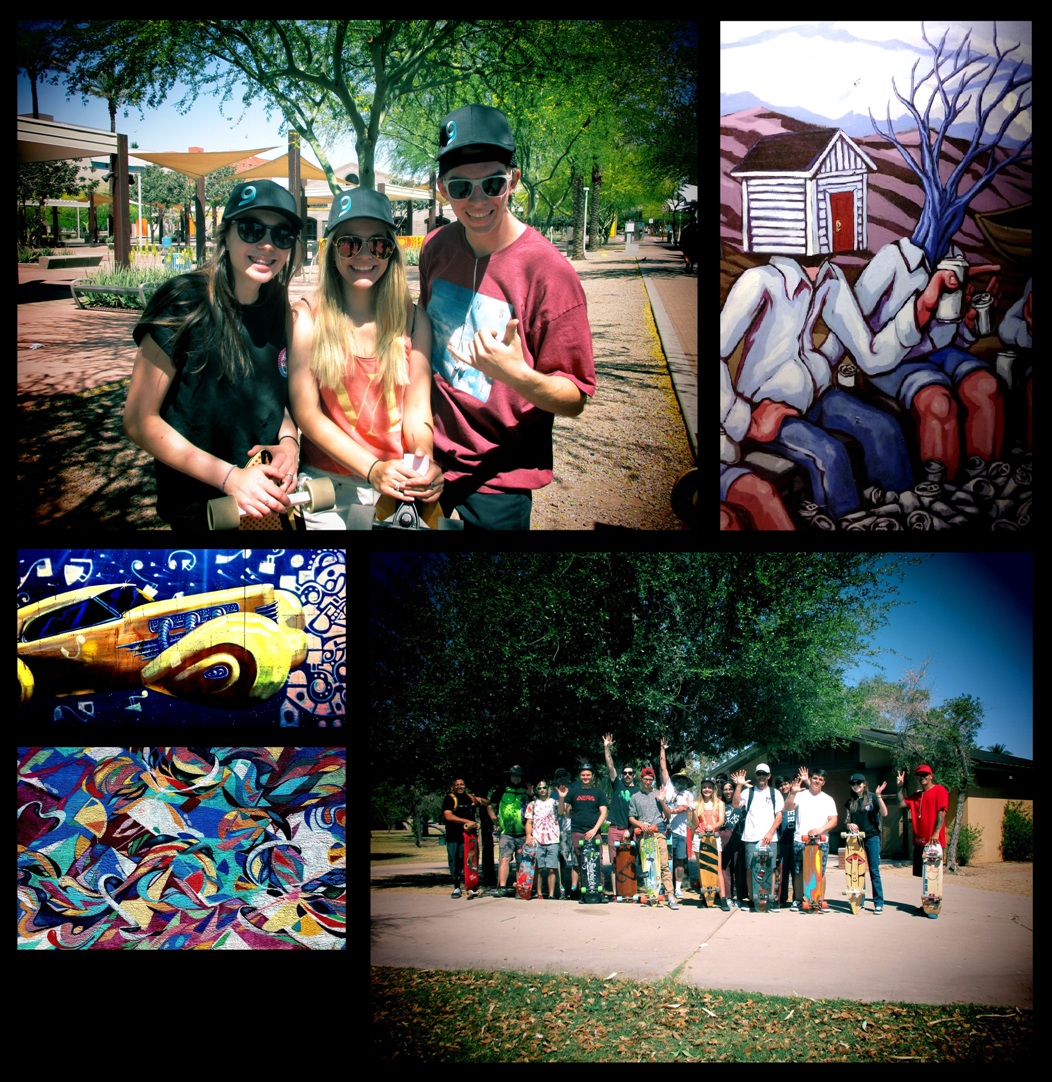 Clockwise from upper left: winners of the Orangatang hats; Roosevelt Row street art; the crew 2018; and more street art.
We have a few more of these on the schedule throughout the summer. If you want to come out and join us, feel free! If you want to host something like this in your hometown or your neighborhood, I'd say go for it. You can take it straight from me: you'd be hard-pressed to find a more enjoyable, and a more rewarding way of spending your free time and energy. See ya at the next cruise…!