I was born and raised in Phoenix/Glendale AZ. I got started in art as a kid. I used to draw all the time at home, school, and when and where ever I was. Then, sadly, I grew out of it when I started getting into skateboarding, music, and my job.
Many years later, I met other artists in Arizona, and was introduced to First Friday's art scene. I was starting to get back into art, but it wasn't 'til I got married and had kids that I really started focusing on it. My wife (Kristin) loved all my work, and gave me all the support and confidence that I needed. My wife is amazing; she found me a spot at First Friday, and I have been making art ever since. I even started to spend hours drawing with my daughter (Charleigh) and my son (Cash)!
I get inspired by old-school cartoons, skateboarding, punk rock music, rat finks, horror movies, tattoos, beer, friends… and most importantly, my wife and my kids!
I do all my art on wood. I draw it, cut it out, sand it, then I get down to coloring. I use water colors, sharpies, prisma pencils, and anything I have lying around.
I want to thank Taylor for helping with all my computer stuff, because I suck with technology; my wife for being the best thing to happen to me, always supporting and understanding me, and for her undying love that grows stronger every day, I love you more then I can ever say or show; my kids for keeping me going, and being the best, most awesome kids ever!!! I love you guys so much!!!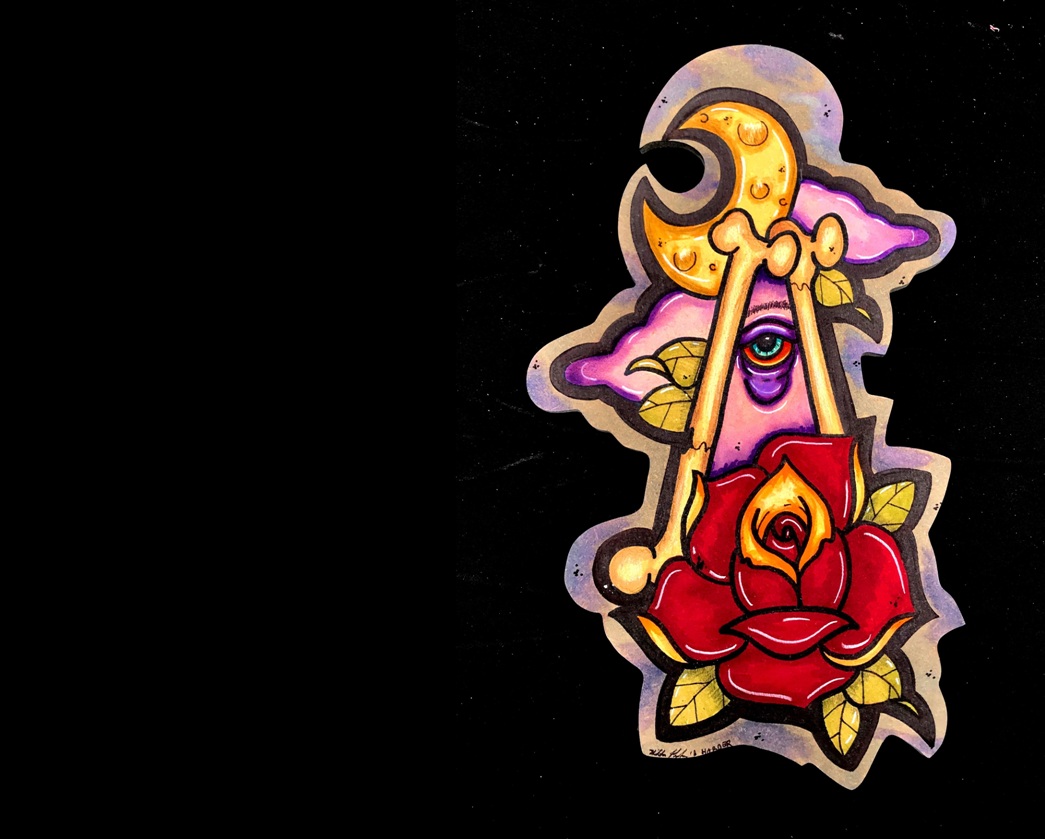 If you are ever in Phoenix, Arizona for a First Friday, check me out on 5th street and Roosevelt in front of Barried Treasure/Black Raven Tattoo. If not, get some art at @artforthebrokenheart.
Thanks,
Keith Harder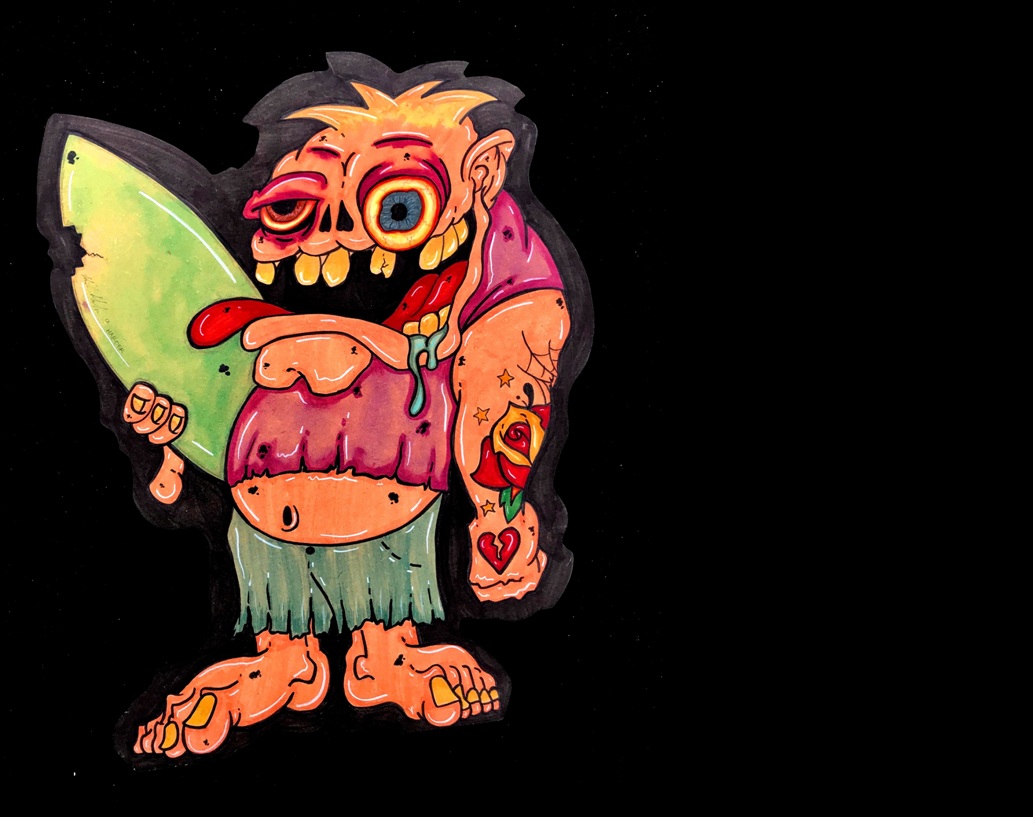 I first saw Keith's art at the First Friday festivities that happen in Phoenix on the first Friday of every month. It's a huge, grassroots are party where I get to walk around, get in a little exercise, and absorb all of the latest and greatest stuff that's happening in Phoenix's underground art and music scenes. It keeps me young… well, "younger", I guess… and reasonably up-to-date with what's happening. Plus, it's one of the few a raging good times to be had in an otherwise mellow, low-key, planned-retirement-community hell.
Keith's art has instant eye-snaring appeal. It immediately snuck up on me out of left field, and slapped me right upside the head. You can't miss it, even if you wanted to (trust me: you don't). Dashing, daring, colorful, whimsical, with a flair for the humorous… it's clearly the product of a skater's overactive, hyper-driven imagination. And you can see right away that the kid's got great influences; his stuff has "Big Daddy" Ed Roth's warped fingerprints all over it, but twisted a bit to suit a younger generation's higher-octane tastes. He's also a really swell, humble chap. I'm glad I met him, and I'm super happy that I get to showcase his work to a broader audience in my humble little web-magazine.
No, thank you, Keith,
Bud Stratford, Executive Director, Everything Skateboarding
You can see more art from Keith Harder on Instagram at @artforthebrokenheart.